Leaf is excited to bring to the hobby the #1 hockey product year in and year out for vintage and legendary memorabilia. No other company brings you as close to hockey history as Leaf with 2017-18 In The Game Used Hockey!
Look for:
Vintage Memorabilia – Only the hockey Hall of Fame can bring you as close to hockey history as these amazing museum type memorabilia cards. Featuring players such as: Cyclone Taylor, Georges Vezina and Percy LeSueur.

Vintage Memorabilia Multi – An astounding display of multi vintage memorabilia cards never seen before! From 2, 4, 6, 8 and for the first time 12 vintage legends on one card! History will be made! Featuring amazing ensembles such as: Vintage 6: Conacher/Day/Bailey/Primeau/Broda/Clancy or Vintage 12: Vezina/Taylor/Benedict/Nighbor/Adams/Lalonde/Day/Stewart/Jackson/Moran/Joliat/Clancy.

The Chosen Few – Amazingly unique program that allows YOU to choose from a truly breath taking collection of 1/1 memorabilia cards!

Rare Materials – Single player memorabilia card featuring 5 amazing memorabilia relics from jersey, patch, skate, glove, pants, pads, trappers, blockers, sticks and more! Such as Tim Horton, Dave Keon and Dominick Hasek.

The Final Curtain – 2 legendary players that shared a final season to an illustrious career such as: Hull/Makita, Beliveau/Armstrong and Sawchuk/Bower.

All-Time Rivals – Legendary rivalry featuring 2 teams that have faced off in historic battles such as: Keon/Horton/Baun/Plante/Beliveau/Laperriere and Mikita/Hull/Hall/Howe/Sawchuk/Delvecchio.

Dynamic Duos – Dual player memorabilia card featuring superstars that played together or a dream duo! Such as: Kariya/Selanne, Fedorov/Bure and Bossy/Trottier.

All-Time GR8s – 8 legends and superstars share a memorabilia card featuring an elite 8 such as: Vachon/Dryden/Parent/Cheevers/Smith/Giacomin/Esposito/Johnston and Mikita/Howe/Hull/Ullman/Beliveau/Delvecchio/Mahovlich/Keon.

The Dirty Dozen -12 legendary goons, enforcers and pugilists share this double sided amazing memorabilia card. Such as: Crimson/Domi/Brashear/Williams/Probert/Laraque/McSorley/Twist/O'Reilly/Boogaard/McCarty/Odjick.

The Hard 8 – 8 goons and enforcers share this bloody great memorabilia card, such as: Williams/Gillies/O'Reilly/D. Hunter/Secord/Milbury/Johnathan.

Super Patch Exclusive Signatures – Amazing jumbo patch signed cards from the future stars of hockey such as Jack Eichel, Nolan Hischier and Nolan Patrick.

The Letterman – Amazing one of one memorabilia cards using a nameplate letter right off the back of a game used jersey such as: Mario Lemieux, Brett Hull and Jean Ratelle.

Induction Years – 3 legendary Hall of Fame players share the spotlight and this amazing memorabilia set featuring enshrined heroes such as: Vezina/Gardiner/Morenz, Taylor/Shore/Nighbor and Beliveau/Geoffrion/Howe.

In The Game Used Single, Dual And Triple Autos – Signature memorabilia set featuring single, dual and triple signed memorabilia cards such as: Dionne/Vachon, Brodeur/Osgood and Howe/Schmidt/Moore.

Nickname Hall Of Fame – Some of hockeys most colorful and historical nicknames are represented in this single player memorabilia insert such as: Georges Vezina "The Chicoutimi Cucumber" and Howie Morenz "The Stratford Streak"

2017-18 Leaf In The Game Used Hockey
Key Components

Each box contains 5 premium cards.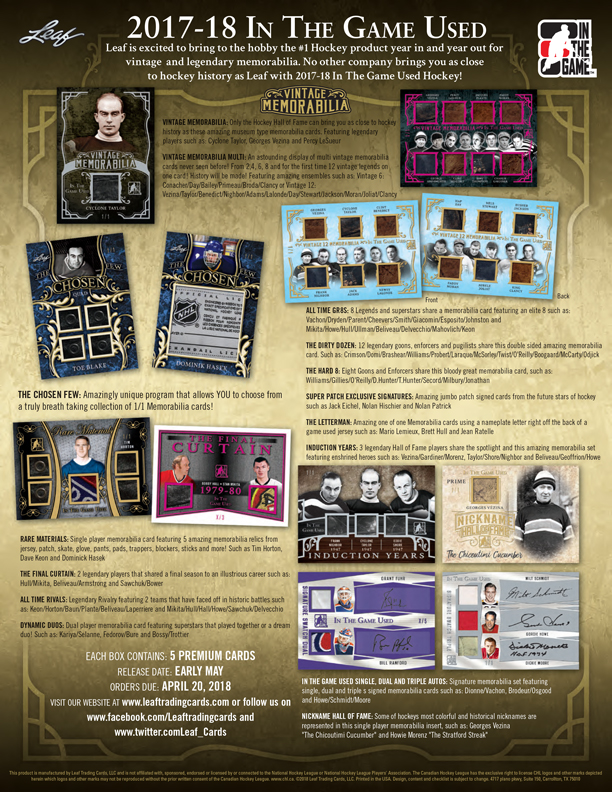 Card Variations:

All Time Gr8s, In The Game Used Dual Auto
Bronze Prismatic Foil  – #'d to 30 and lower
Purple Prismatic Foil – #'d to 12 and lower
Blue Prismatic Foil – #'d to 5 and lower
Magenta Prismatic Foil – #'d to 3 and lower
Silver Prismatic Foil – #'d to 2 and lower
Gold Prismatic Foil – #'d 1 of 1
Green Prismatic Foil – #'d to 3 and lower (2018 Toronto Hockey Spring Expo Show Exclusive)
All Time Gr8s Prime
Bronze Prismatic Foil  – #'d to 9 and lower
Purple Prismatic Foil – #'d to 6 and lower
Blue Prismatic Foil – #'d to 4  and lower
Magenta Prismatic Foil – #'d to 3 and lower
Silver Prismatic Foil – #'d to 2 and lower
Gold Prismatic Foil – #'d 1 of 1
Green Prismatic Foil – #'d to 3 and lower (2018 Toronto Hockey Spring Expo Show Exclusive)
All Time Rivals
Bronze Prismatic Foil  – #'d to 25 and lower
Purple Prismatic Foil – #'d to 12 and lower
Blue Prismatic Foil – #'d to 7 and lower
Magenta Prismatic Foil – #'d to 4 and lower
Silver Prismatic Foil – #'d to 2 and lower
Gold Prismatic Foil – #'d 1 of 1
Green Prismatic Foil – #'d to 3 and lower (2018 Toronto Hockey Spring Expo Show Exclusive)
All Time Rivals Prime, Nickname Hall of Fame Prime, Vintage Memorabilia 3
Bronze Prismatic Foil  – #'d to 6 and lower
Purple Prismatic Foil – #'d to 5 and lower
Blue Prismatic Foil – #'d to 4 and lower
Magenta Prismatic Foil – #'d to 3 and lower
Silver Prismatic Foil – #'d to 2 and lower
Gold Prismatic Foil – #'d 1 of 1
Green Prismatic Foil – #'d 1 of 1 (2018 Toronto Hockey Spring Expo Show Exclusive)
Vintage Memorabilia 2
Bronze Prismatic Foil  – #'d to 5 and lower
Purple Prismatic Foil – #'d to 4 and lower
Blue Prismatic Foil – #'d to 2 and lower
Magenta Prismatic Foil – #'d to 2 and lower
Silver Prismatic Foil – #'d 1 of 1
Gold Prismatic Foil – #'d 1 of 1
Green Prismatic Foil – #'d to 3 and lower (2018 Toronto Hockey Spring Expo Show Exclusive)
Dynamic Duos
Bronze Prismatic Foil  – #'d to 35 and lower
Purple Prismatic Foil – #'d to 12 and lower
Blue Prismatic Foil – #'d to 7 and lower
Magenta Prismatic Foil – #'d to 4 and lower
Silver Prismatic Foil – #'d to 2 and lower
Gold Prismatic Foil – #'d 1 of 1
Green Prismatic Foil – #'d to 3 and lower (2018 Toronto Hockey Spring Expo Show Exclusive)
Dynamic Duos Prime, Vintage Memorabilia
Bronze Prismatic Foil  – #'d to 9 and lower
Purple Prismatic Foil – #'d to 5 and lower
Blue Prismatic Foil – #'d to 4 and lower
Magenta Prismatic Foil – #'d to 3 and lower
Silver Prismatic Foil – #'d to 2 and lower
Gold Prismatic Foil – #'d 1 of 1
Green Prismatic Foil – #'d 1 of 1 (2018 Toronto Hockey Spring Expo Show Exclusive)
In The Game Used Auto
Bronze Prismatic Foil  – #'d to 35 and lower
Purple Prismatic Foil – #'d to 12 and lower
Blue Prismatic Foil – #'d to 5 and lower
Magenta Prismatic Foil – #'d to 3 and lower
Silver Prismatic Foil – #'d to 2 and lower
Gold Prismatic Foil – #'d 1 of 1
Green Prismatic Foil – #'d to 4 and lower (2018 Toronto Hockey Spring Expo Show Exclusive)
In The Game Used Triple Auto
Bronze Prismatic Foil  – #'d to 30 and lower
Purple Prismatic Foil – #'d to 6 and lower
Blue Prismatic Foil – #'d to 5 and lower
Magenta Prismatic Foil – #'d to 3 and lower
Silver Prismatic Foil – #'d to 2 and lower
Gold Prismatic Foil – #'d 1 of 1
Green Prismatic Foil – #'d 1 of 1 (2018 Toronto Hockey Spring Expo Show Exclusive)
Induction Years
Bronze Prismatic Foil  – #'d to 35 and lower
Purple Prismatic Foil – #'d to 12 and lower
Blue Prismatic Foil – #'d to 5 and lower
Magenta Prismatic Foil – #'d to 4 and lower
Silver Prismatic Foil – #'d to 3 and lower
Gold Prismatic Foil – #'d 1 of 1
Green Prismatic Foil – #'d to 3 and lower (2018 Toronto Hockey Spring Expo Show Exclusive)
Rare Materials
Bronze Prismatic Foil  – #'d to 15 and lower
Purple Prismatic Foil – #'d to 6 and lower
Blue Prismatic Foil – #'d to 4 and lower
Magenta Prismatic Foil – #'d to 3 and lower
Silver Prismatic Foil – #'d to 2 and lower
Gold Prismatic Foil – #'d 1 of 1
Green Prismatic Foil – #'d to 3 and lower (2018 Toronto Hockey Spring Expo Show Exclusive)
Super Patch Exclusive Signatures
Bronze Prismatic Foil  – #'d to 35 and lower
Purple Prismatic Foil – #'d to 15 and lower
Blue Prismatic Foil – #'d to 7 and lower
Magenta Prismatic Foil – #'d to 4 and lower
Silver Prismatic Foil – #'d to 2 and lower
Gold Prismatic Foil – #'d 1 of 1
Green Prismatic Foil – #'d to 5 and lower (2018 Toronto Hockey Spring Expo Show Exclusive)
The Chosen Few
Gold Prismatic Foil – #'d 1 of 1
The Dirty Dozen
Blue Prismatic Foil – #'d to 5 and lower
Magenta Prismatic Foil – #'d to 3 and lower
Silver Prismatic Foil – #'d to 2 and lower
Gold Prismatic Foil – #'d 1 of 1
The Final Curtain
Bronze Prismatic Foil  – #'d to 20 and lower
Purple Prismatic Foil – #'d to 9 and lower
Blue Prismatic Foil – #'d to 5 and lower
Magenta Prismatic Foil – #'d to 3 and lower
Silver Prismatic Foil – #'d to 2 and lower
Gold Prismatic Foil – #'d 1 of 1
Green Prismatic Foil – #'d to 3 and lower (2018 Toronto Hockey Spring Expo Show Exclusive)
The Hard 8
Bronze Prismatic Foil  – #'d to 20 and lower
Purple Prismatic Foil – #'d to 7 and lower
Blue Prismatic Foil – #'d to 5 and lower
Magenta Prismatic Foil – #'d to 3 and lower
Silver Prismatic Foil – #'d to 2 and lower
Gold Prismatic Foil – #'d 1 of 1
Green Prismatic Foil – #'d to 3 and lower (2018 Toronto Hockey Spring Expo Show Exclusive)
The Letterman
Magenta Prismatic Foil – #'d 1 of 1
Silver Prismatic Foil – #'d 1 of 1
Gold Prismatic Foil – #'d 1 of 1
Green Prismatic Foil – #'d 1 of 1 (2018 Toronto Hockey Spring Expo Show Exclusive)
Nickname Hall Of Fame
Bronze Prismatic Foil  – #'d to 30 and lower
Purple Prismatic Foil – #'d to 12 and lower
Blue Prismatic Foil – #'d to 7 and lower
Magenta Prismatic Foil – #'d to 4 and lower
Silver Prismatic Foil – #'d to 2 and lower
Gold Prismatic Foil – #'d 1 of 1
Green Prismatic Foil – #'d to 4 and lower (2018 Toronto Hockey Spring Expo Show Exclusive)
Vintage Memorabilia 4
Bronze Prismatic Foil  – #'d to 4 and lower
Purple Prismatic Foil – #'d to 4 and lower
Blue Prismatic Foil – #'d to 3 and lower
Magenta Prismatic Foil – #'d to 2 and lower
Silver Prismatic Foil – #'d to 2 and lower
Gold Prismatic Foil – #'d 1 of 1
Green Prismatic Foil – #'d 1 of 1 (2018 Toronto Hockey Spring Expo Show Exclusive)
Vintage Memorabilia 6
Bronze Prismatic Foil  – #'d to 3 and lower
Purple Prismatic Foil – #'d to 3 and lower
Blue Prismatic Foil – #'d to 2 and lower
Magenta Prismatic Foil – #'d to 2 and lower
Silver Prismatic Foil – #'d to 2 and lower
Gold Prismatic Foil – #'d 1 of 1
Green Prismatic Foil – #'d 1 of 1 (2018 Toronto Hockey Spring Expo Show Exclusive)
Vintage Memorabilia 8
Bronze Prismatic Foil  – #'d to 3 and lower
Purple Prismatic Foil – #'d to 2 and lower
Blue Prismatic Foil – #'d to 2 and lower
Magenta Prismatic Foil – #'d to 2 and lower
Silver Prismatic Foil – #'d 1 of 1
Gold Prismatic Foil – #'d 1 of 1
Green Prismatic Foil – #'d 1 of 1 (2018 Toronto Hockey Spring Expo Show Exclusive)
Vintage Memorabilia 12
Magenta Prismatic Foil – #'d 1 of 1
Silver Prismatic Foil – #'d 1 of 1
Gold Prismatic Foil – #'d 1 of 1