Leaf trading cards is pleased to announce the return of one of last years surprise hit hockey releases in 2017-18 Leaf Masked Men Hockey!
Look for:
300 Win Club – Every 300 Win Goalie in hockey history is represented in this exclusive memorabilia insert that pays homage to the greatest between the pipes. Such as: Turk Broda, Jacques Plante & Terry Sawchuk.

Cup Confrontations – Famous head to head battles of two goalie legends vying for hockeys ultimate prize such as: Dryden/Cheevers, Hall/Worsley & Gardiner/Hainsworth.

Decade Of Dominance – Six goalie memorabilia card featuring those who dominated play for a decade such as: 1920's – Benedict/Hainsworth/Worters/Vezina/Thompson/Gardiner.

Enshrined – Exclusive club of goalies enshrined in the hockey Hall of Fame are represented in this memorabilia insert such as: Tiny Thompson, Percy LeSueur & Frank Brimsek.

Goalie Graphs – Signature set featuring goalies only such as: Vladislav Tretiak, Manon Rheaume & the goalie from the movie Slapshot – Yvon Barrette (Dennis Lemieux).
Goalie Gear – Single player, six swatch memorabilia card featuring hockey's greatest brick walls such as: Dominik Hasek, Martin Brodeur & Grant Fuhr.
Jumbo Goalie Patch – Huge game used patch card featuring masked stars such as: Felix Potvin, Sean Burk & Roman Turek.

Jumbo Pad – Monster sized goalie pad insert featuring super net-minders such as: Henrick Lundqvist, Ed Belfour & Dominik Hasek.

Masked Men Metal – The amazingly colorful masks worn by these amazingly colorful goalies with new parallel levels and colors such as: The goalie from the movie Slapshot – Yvon Barrette (Dennis Lemieux), Clint Benedict, Rogie Vachon & Pelle Lindbergh.

Masked Women Metal – New for 2017-18 we honor the women that do battle between the pipes such as: Manon Rheaume, Kim St. Pierre & Charline Labonte.

Pillars Of Hockey – Four player memorabilia card featuring goalies that have laid the foundation for the game we love today such as: Vezina/LeSueur/Benedict/Worters & Durnan/Lumley/Bower/Brimsek.

Signature Goalies – Autographed memorabilia set featuring either a pad, glove, skate, jersey or patch from goalie greats such as: Martin Brodeur, Grant Fuhr & Gerry Cheevers.

Vintage Goalies – The original gangster goalies that paved the way for goalie play today such as: Georges Vezina, Paddy Moran & Tiny Thompson.

2017-18 Leaf Masked Men Hockey
Key Components

Each box contains 3 memorabilia or autograph cards and 3 Metal Masked Men cards.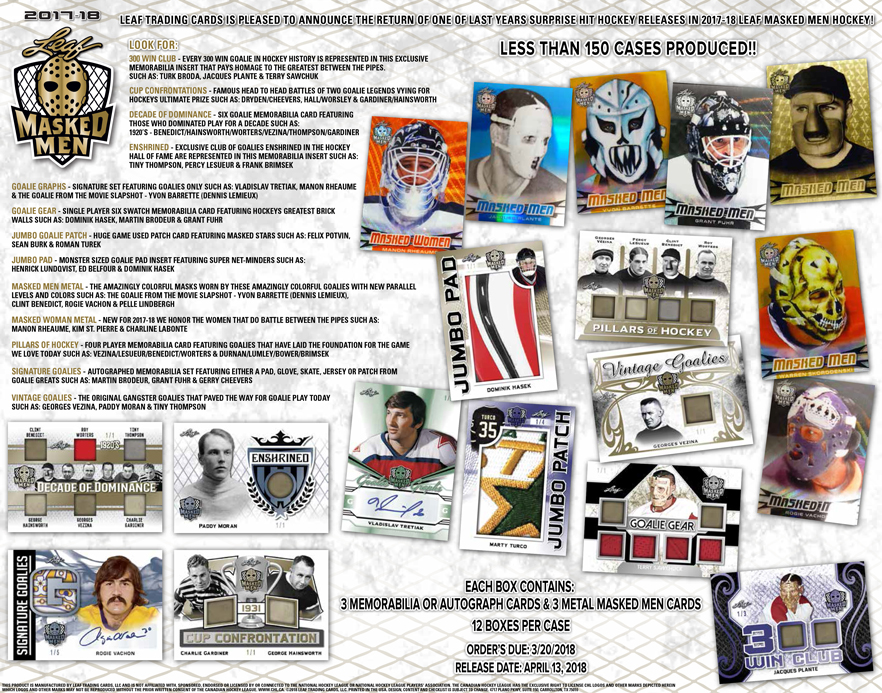 Card Variations:

300 Win Club, Cup Confrontations & Decade Of Dominance
Bronze – #'d to 20 and lower
Emerald – #'d to 7 and lower
Platinum – #'d to 5 and lower
Purple – #'d to 3 and lower
Silver – #'d to 2 and lower
Gold – #'d 1 of 1

Enshrined, Jumbo Goalie Patch
Bronze – #'d to 6 and lower
Emerald – #'d to 5 and lower
Platinum – #'d to 4 and lower
Purple – #'d to 3 and lower
Silver – #'d to 2 and lower
Gold – #'d 1 of 1
Goalie Gear
Bronze – #'d to 15 and lower
Emerald – #'d to 7 and lower
Platinum – #'d to 5 and lower
Purple – #'d to 3 and lower
Silver – #'d to 2 and lower
Gold – #'d 1 of 1
Goalie Graphs & Signature Goalies
Bronze – #'d to 20 and lower
Emerald – #'d to 9 and lower
Platinum – #'d to 5 and lower
Purple – #'d to 3 and lower
Silver – #'d to 2 and lower
Gold – #'d 1 of 1
Jumbo Pad
Bronze – #'d to 15 and lower
Emerald – #'d to 8 and lower
Platinum – #'d to 5 and lower
Purple – #'d to 3 and lower
Silver – #'d to 2 and lower
Gold – #'d 1 of 1
Pillars Of Hockey & Vintage Goalies
Bronze – #'d to 9 and lower
Emerald – #'d to 6 and lower
Platinum – #'d to 4 and lower
Purple – #'d to 3 and lower
Silver – #'d to 2 and lower
Gold – #'d 1 of 1
Masked Men & Masked Women Metal
Prismatic – no numbering
Blue Prismatic  – #'d to 15 and lower
Purple Prismatic – #'d to 10 and lower
Pink Prismatic – #'d to 7 and lower
Black Prismatic – #'d to 5 and lower
Green Prismatic – #'d to 3 and lower
Red Prismatic – #'d to 2 and lower
Gold Prismatic – #'d 1 of 1
Engine Turned Gold – #'d 1 of 1
Masked Men & Masked Women Metal Wave
Wave Foil – no numbering
Blue Prismatic  – #'d to 9 and lower
Purple Prismatic – #'d to 6 and lower
Pink Prismatic – #'d to 5 and lower
Black Prismatic – #'d to 4 and lower
Green Prismatic – #'d to 3 and lower
Red Prismatic – #'d to 2 and lower
Gold Prismatic – #'d 1 of 1