In 2017 Leaf introduced Pearl Multi Sport to the hobby and it quickly became the most sought after and talked about high end product in hobby history! Now Leaf is proud to add 2017-18 Leaf Pearl Hockey to our powerful portfolio!
Look for:
Base Cards – The greatest names in history are represented in this amazingly beautiful base set. Each card has a pearl right in the card! From silver to gold to black! Featuring legends such as: George Vezina, Cyclone Taylor and Gordie Howe!
Base Auto Cards – Legendary signatures featured in this legendary set! Featuring Gordie Howe, Mario Lemieux and Sergei Fedorov.
Pearl Cuts – One of the most amazing cut signature checklists ever produced! Cut signatures fall one per box on average! Featuring some of the most important figures from all facets of history! Such as: Abraham Lincoln, JFK, John Wayne and Cyclone Taylor!
Letter Or Lace – The lace ties off the front of the jersey or the name off the back? This entire set features only that! Featuring hockey heroes such as: Dave Keon, George Armstrong and Pelle Lindbergh!
Paragon Signatures – An autographed memorabilia set featuring hockey elite such as: Gordie Howe, Mario Lemieux and Pavel Bure!
Pearlescent Patch – Game used patch set featuring legends such as: Tim Horton, Bobby Hull and Stan Mikita!
Personalized – One of only one nameplates off of game used sticks! Featuring Jean Beliveau, Bobby Clarke and Joe Sakic!
Paragon Triple Signatures – Triple signed memorabilia set featuring 3 hockey amigos such as: Fedorov/Bure/Mogilny and Howe/Lemieux/Hull.
Pearl Hockey History Book – Never before has the history of hockey been represented better than with Leaf Pearl Hockey History Books! Featuring museum level memorabilia with a cut signature from hockey history!
Magnum Opus – The name says it all! A once in a lifetime dual memorabilia 1/1 set featuring dual NHL shields from legends such as: Jagr/Malkin, Dual Bat Barrel and Nameplates such as: Clemente/Lemieux and Bench Dryden! Look for the industry's first cross sport league logo NBA/NHL memorabilia card! There is a historical one that will blow your mind!!
Magnificent Materials – Single player – 8 swatch memorabilia bonanza featuring jersey, patch, skate, pad, glove, pants and more of legends such as: Tim Horton, Pelle Lindbergh and Terry Sawcuk.
Pearl Immortal 4 – An unprecedented selection of multi sport legends or hockey legends featured on this memorabilia set! Such as: Vezina/Ruth/Ali/Pele and Dryden/Plante/Sawchuk/LaSueur.
Pearls Of History – The greatest legends in hockey history are featured on this vintage memorabilia card such as: Georges Vezina, Cyclone Taylor & Percy LeSueur.
The Year In Sports – 4 players that made a significant impact during the same year, such as: 1988 – Lemieux/Tyson/Canseco/Magic and 1997 – Hulk Hogan/Griffey Jr./Favre/Lemieux.
Pearl 8 Signatures – 8 legends signed on one card front to back! Such as: Sakic/Hull/Hawerchuk/Murphy/Chelios/Lidstrom/Bure/Forsberg & Howe/Delvecchio/Lindsay/Ullman/Dionne/Kelly/Fedorov/Larionov.
Pearl Immortals 2 – Amazing combinations headline this memorabilia set, such as: Vezina/Ruth, Cyclone Taylor/Babe Ruth and Ted Williams/Eddie Shore.
Paragon Dual Signatures – Dual signed, dual memorabilia set! Featuring legends such as: Bobby Hull/Brett Hull and Pavel Bure/Sergei Fedorov.
Pearls Of History 8 – 8 legends featured on this vintage memorabilia card such as: Vezina/Taylor/Adams/Nighbor/Lalonde/LeSueur/Stewert/Morenz.
Pearl City Signatures – Triple signed card that features 3 legends from different sports that helped build this city! Such as: Lemieux/Bradshaw/Mazeroski and Bobby Hull/Dick Butkus/Frank Thomas!
Pearlescent Dual Patch – 2 legends paired together featuring rare patches such as: Mikita/Esposito, Lemieux/Roethlisberger and Turgeon/Modano.
Pearl Pop Century Preview – Previewing a new addition to next years Leaf Pop Century! Featuring Harrison Ford!
2017-18 Leaf Pearl Hockey Key Components
Eleven hits per box. Each box will feature 1 Cut Signature.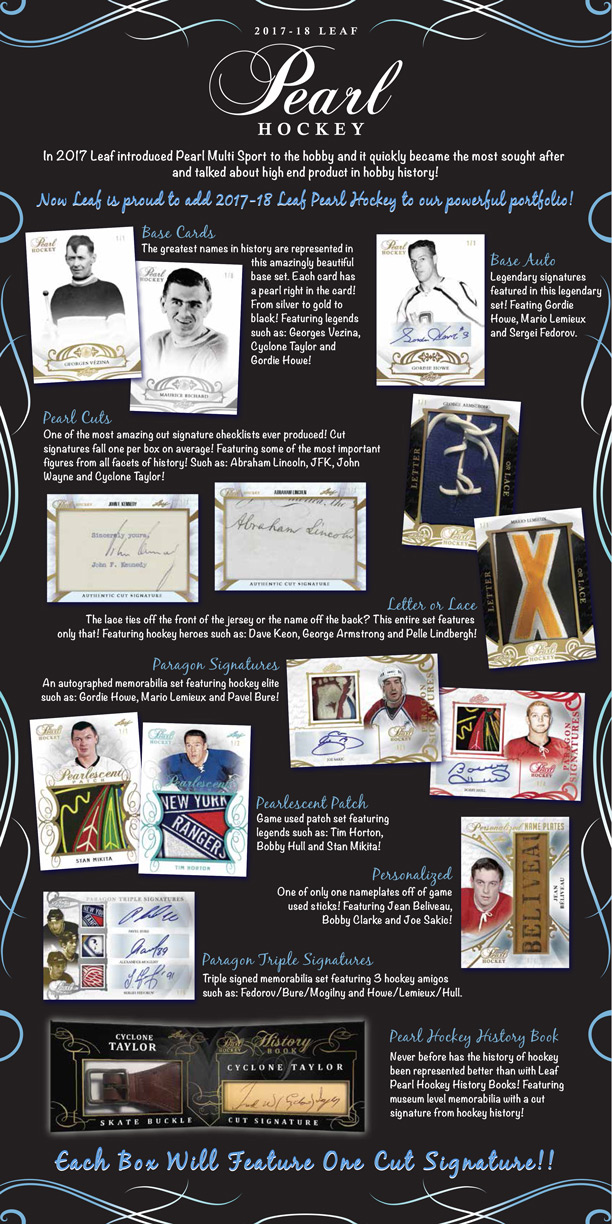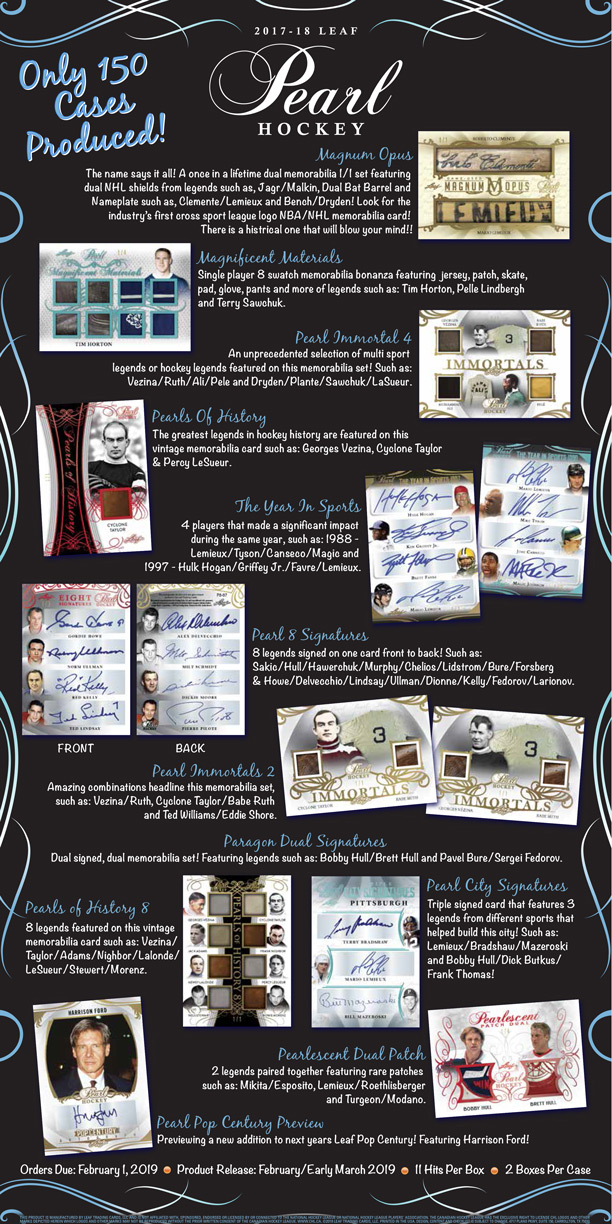 Card Variations:
Base
Silver Foil – #'d to 8 and lower
Red Foil – #'d to 5 and lower
Platinum Foil – #'d to 4 and lower
Purple Foil – #'d to 3 and lower
Navy Blue Foil – #'d to 2 and lower
Gold Foil – #'d 1 of 1
Green Foil – #'d 1 of 1
Black Foil – #'d 1 of 1

Base Auto
Silver Foil – #'d to 7 and lower
Red Foil – #'d to 4 and lower
Platinum Foil – #'d to 3 and lower
Purple Foil – #'d to 2 and lower
Navy Blue Foil – #'d 1 of 1
Gold Foil – #'d 1 of 1

Paragon Signatures & Magnificent Materials
Silver Foil – #'d to 7 and lower
Red Foil – #'d to 5 and lower
Platinum Foil – #'d to 4 and lower
Purple Foil – #'d to 3 and lower
Navy Blue Foil – #'d to 2 and lower
Gold Foil – #'d 1 of 1

Pearl 8 Signatures
Silver Foil – #'d to 6 and lower
Red Foil – #'d to 4 and lower
Platinum Foil – #'d to 3 and lower
Purple Foil – #'d to 2 and lower
Navy Blue Foil – #'d 1 of 1
Gold Foil – #'d 1 of 1

Pearlescent Patch, Paragon Triple & Dual Signatures, Pearl City Signatures & The Year In Sports
Silver Foil – #'d to 6 and lower
Red Foil – #'d to 5 and lower
Platinum Foil – #'d to 4 and lower
Purple Foil – #'d to 3 and lower
Navy Blue Foil – #'d to 2 and lower
Gold Foil – #'d 1 of 1

Pearl Immortals & Pearl Pop Century Preview
Silver Foil – #'d to 3 and lower
Red Foil – #'d to 2 and lower
Platinum Foil – #'d to 2 and lower
Purple Foil – #'d to 2 and lower
Navy Blue Foil – #'d of 1
Gold Foil – #'d 1 of 1

Pearls Of History & Pearl Immortal 4
Silver Foil – #'d to 4 and lower
Red Foil – #'d to 3 and lower
Platinum Foil – #'d to 2 and lower
Purple Foil – #'d 1 of 1
Navy Blue Foil – #'d 1 of 1
Gold Foil – #'d 1 of 1

Pearls Of History 8
Platinum Foil – #'d to 3 and lower
Purple Foil – #'d to 2 and lower
Navy Blue Foil – #'d 1 of 1
Gold Foil – #'d 1 of 1

Pearlescent Dual Patch
Silver Foil – #'d to 5 and lower
Red Foil – #'d to 4 and lower
Platinum Foil – #'d to 3 and lower
Purple Foil – #'d to 2 and lower
Navy Blue Foil – #'d to 2 and lower
Gold Foil – #'d 1 of 1

Letter Or Lace
Gold Foil – #'d to 11 and lower

Pearl Cuts
Gold Foil – #'d to 12 and lower

Hockey History Book, Magnum Opus & Personalized
Gold Foil – #'d 1 of