Leaf is pleased to announce its first ever release of its exciting Flash technology in baseball. This release features not only an incredibly attractive release but it features one of the greatest rookie/prospect checklists in the history of baseball cards! Look for HOT rookies & prospects including: Shohei Ohtani, Juan Soto, Jo Adell, Ronald Acuna, Wander Franco, Bo Bichette, Joey Bart, Fernando Tatis Jr., Luis Robert, Nolan Gorman, Casey Mize, Jarred Kelenic, Vladimir Guerrero Jr., and many more!!!!!
ULTRA LIMITED PRODUCTION… SUBSTANTIALLY CUT FROM 2019 METAL BASEBALL!!!
2018 Leaf Flash Baseball
Key Components
Each box will contain 6 autographed cards.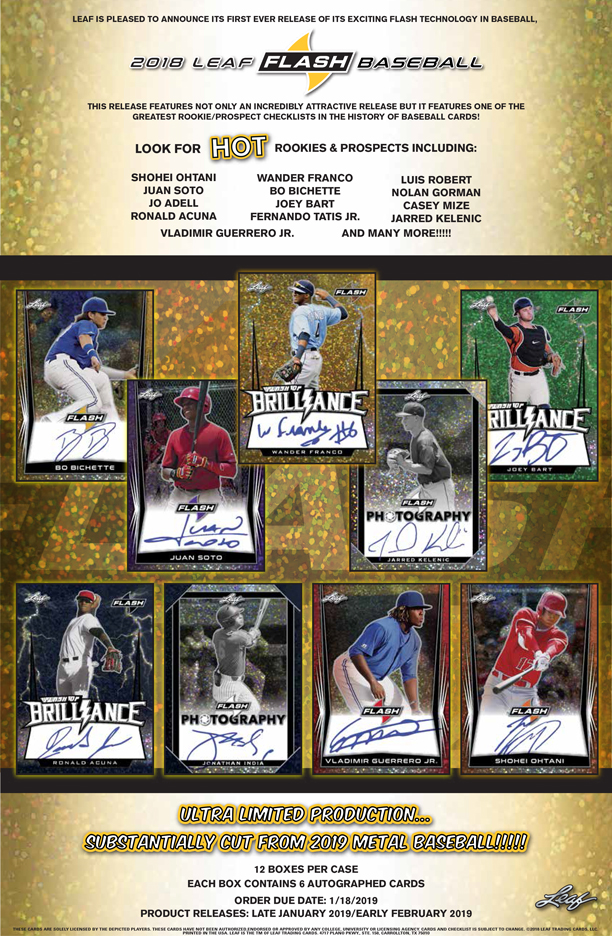 Card Variations:
Flash Auto, Flash Of Brilliance & Flash Photography
Flash – no numbering
Blue Flash – #'d to 50 and lower
Purple Flash – #'d to 25 and lower
Green Flash – #'d to 15 and lower
Orange Flash – #'d to 10 and lower
Red Flash – #'d to 5 and lower
Gold Flash – #'d 1 of 1
Metal National Pride Auto & Metal Auto
Silver – no numbering
Blue – #'d to 35 and lower
Purple – #'d to25 and lower
Pink – #'d to 20 and lower
Black – #'d to 15 and lower
Green – #'d to 10 and lower
Orange – #'d to 7 and lower
Red – #'d to 5 and lower
Gold – #'d 1 of 1
Gold Super Prismatic – #'d 1of 1
Metal National Pride Auto & Metal Auto (Wave Technology)
Wave Foil – no numbering
Blue Wave Foil – #'d to 20 and lower
Purple Wave Foil – #'d to 15 and lower
Pink Wave Foil – #'d to 1o and lower
Black Wave Foil – #'d to 7 and lower
Green Wave Foil – #'d to 5 and lower
Orange Wave Foil – #'d to 3 and lower
Red Wave Foil – #'d to 2 and lower
Gold Wave Foil – #'d 1 of 1