Leaf is pleased to announce it's most value driven tennis release of all time! With a staggering 8 autographs per box and only 115 10-box cases produced, this release is not only packed with value but among the scarcest mainstream tennis releases of all time. The addition of a multitude of dual signed cards further enhances an already attractive value proposition.
2018 Leaf Grand Slam Tennis
Key Components
Each box will contain 8 autographed cards.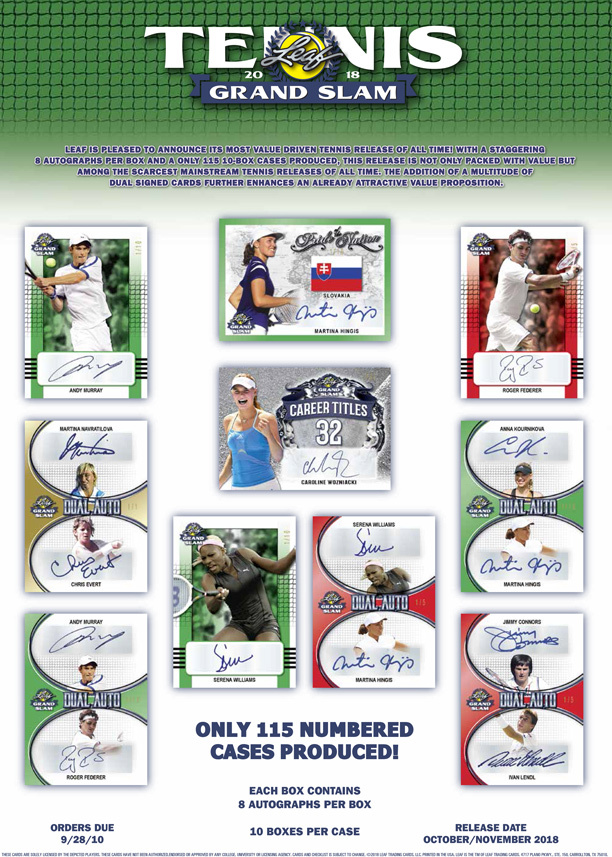 Card Variations
Base Auto
White – no numbering
Silver – #'d to 50 and lower
Blue – #'d to 25 and lower
Green – #'d to 10 and lower
Red – #'d to 5 and lower
Gold – #'d 1 of 1
Career Titles
White – #'d to 94 and lower
Dual Auto
White – #'d to 35 and lower
Silver – #'d to 20 and lower
Blue – #'d to 15 and lower
Green – #'d to 10 and lower
Red – #'d to 5 and lower
Gold – #'d 1 of 1
Dual Auto
White – #'d to 75 and lower
Silver – #'d to 50 and lower
Blue – #'d to 25 and lower
Green – #'d to 10 and lower
Red – #'d to 5 and lower
Gold – #'d 1 of 1