Leaf is pleased to announce what is likely its best wrestling issue of all time. 2018 Leaf Legends Of Wrestling features a unique collection of names that bring new excitement to the category.
Look for:

Jesse "The Body" Ventura's first ever certified pack issued autograph cards!!!
Dual autographs featuring an amazing combination of elite names!!!!!
Bonus Edition: 4 rare on card MMA Original subset cards: Paige VanZant, Fedor Emelianenko, Royce Gracie and Sakuraba!!!!!!
Original art randomly inserted as case toppers!!!!!!!!!!
2018 Leaf Legends Of Wrestling
Key Components
Eight autographs per box.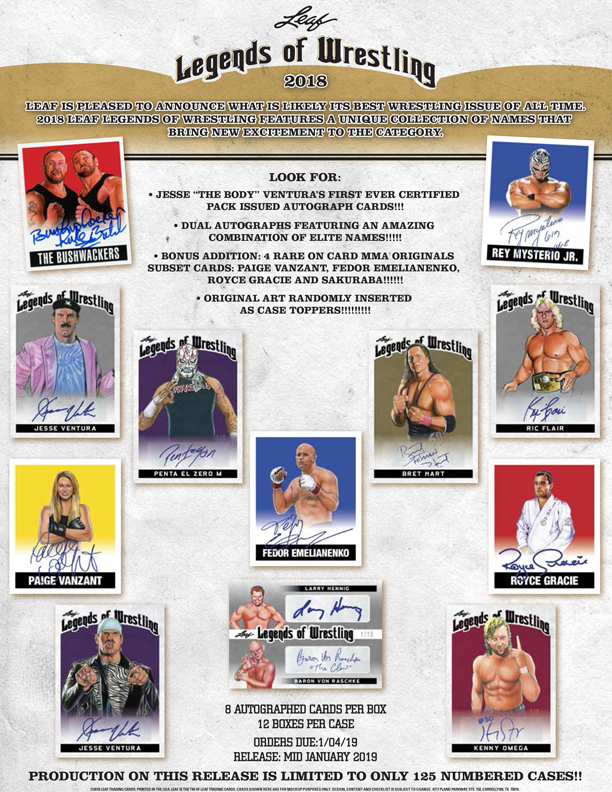 Card Variations:

Base Auto
White – no numbering
Silver – #'d to 25 and lower
Green – #'d to 15 and lower
Gold – #'d to 10 and lower
Purple – #'d to 5 and lower
Red –  #'d 1 of 1
Dual Auto
White – no numbering
Silver – #'d to 15 and lower
Green – #'d to 10 and lower
Gold – #'d to 5 and lower
Purple – #'d to 3 and lower
Red –  #'d 1 of 1
Originals Base Auto 2017
White – no numbering
Yellow – #'d to 99 and lower
Blue – #'d to 25 and lower
Red – #'d to 10 and lower
Black – #'d 1 of 1

Originals Alternate Art Auto 2017
White – no numbering
Yellow – #'d to 25 and lower
Blue – #'d to 10 and lower
Red – #'d to 5 and lower
Black – #'d 1 of 1
Originals Base Auto 2014
White – no numbering
Yellow – #'d to 99 and lower
Blue – #'d to 25 and lower
Red – #'d to 10 and lower
Black – #'d 1 of 1
Originals Alternate Art Auto 2014
White – no numbering
Yellow – #'d to 25 and lower
Blue – #'d to 10 and lower
Red – #'d to 5 and lower
Black – #'d 1 of 1
Originals Base Auto 2012
White – no
Yellow – #'d to 99 and lower
Blue – #'d to 25 and lower
Red – #'d to 10 and lower
Black – #'d 1 of 1
Originals Alternate Art Auto 2012
White – no
Yellow – #'d to 25 and lower
Blue – #'d to 10 and lower
Red – #'d to 5 and lower
Black – #'d 1 of 1