Checklist – N/A
Leaf is pleased to announce the return of its highly anticipated repackaged memorabilia release, 2018 Leaf Memorabilia Vault! This release features everything amazing in the world of collectible memorabilia!
Look for items from the following list of possible collectibles: Signed Jersey's (all sports), Signed Balls (all-sports), Signed Baseball Bats, Signed Celebrity Photo's, Signed Photographs (all-sports), Signed Guitars, Signed Mini Football Helmets, Signed Footballs, Signed Trading Cards, World Series Ticket Stubs, Super Bowl Tickets (slabbed), Signed Hockey Pucks, Signed Funko Pop Figures, Signed Collectible Toys, Signed Boxing Gloves, Signed Boxing Trunks, Signed Championship Belts, Signed Record Albums, Signed Books, Movie/TV Worn Wardrobe, Game Used Bats, Signed Slabbed Cut Signatures, Signed Movie/TV Costumes, Signed Political Documents, Game Used Jersey's, Game Used Shoes, Celebrity & Sports Star's High School Year Books, AND TONS MORE!!!
2018 Leaf Memorabilia Vault
Key Components
Each box contains 10 memorabilia items.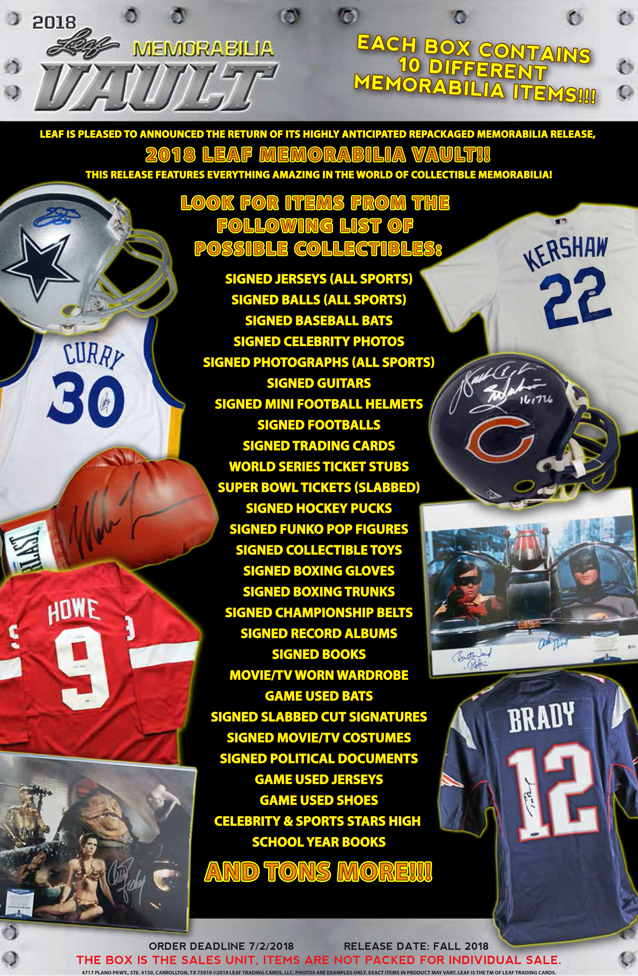 THE BOX IS THE SALES UNIT, ITEMS ARE NOT PACKED FOR INDIVIDUAL SALE.