Leaf's Metal U.S. Army All-American Football is back again following a huge success last year. Each 8 autograph box will on average contain 5 Metal Autograph cards, 2 hard signed Selection Tour Autograph cards and 1 Patch Autograph card!!! With 8 autographs per box. Once again the box price is very affordable. This years crop of skilled position players is huge and includes a number of top running backs and quarterbacks!!! We can't promise 2 freshman quarterbacks in the National Championship Game like 2017, but you never know who will emerge as elite talent….
U.S. ARMY ALL-AMERICAN BOWL ALUMNI INCLUDE:
Sam Darnold, Ezekiel Elliott, Christian McCaffrey, Odell Beckham Jr., Andrew Luck, Derrick Henry, Jamaal Charles, Patrick Peterson, Joe Thomas, Demarco Murray, Ndamukong Suh, Jonathan Allen, Jake Butt, Curtis Samuel, Nick Chubb, Sony Michel, Allen Lazard, etc., and many others!!
LOOK FOR:
METAL AUTOS
Extreme rarity and extreme color!! Each card is serial-numbered to 50 or less!! More parallel colors than previous years!! And look for rare, extremely low serial-numbered flag background variations!! Metal autographs comprise over 60% of the production run!
HARD SIGNED SELECTION OF TOUR AUTOS
These are the only on-card signatures in the product. The same parallel colors from 2016 and 2017 are available and each card is serial-numbered to 50 or less!! Look for extremely rare inscriptions!!
PATCH AUTOS
The jerseys worn by players for this event are the sickest imaginable! Every memorabilia card is a patch and each card is serial-numbered to 40 or less!! Only the skilled position and 5-STAR caliber players are included in this exclusive sub-set!!
EXTREMELY RARE INSCRIPTIONS
See below examples of inscription cards that will be inserted into this product.

2017 Leaf Metal U.S. All-American Football
Key Components

Each box contains 8 autographed cards per box.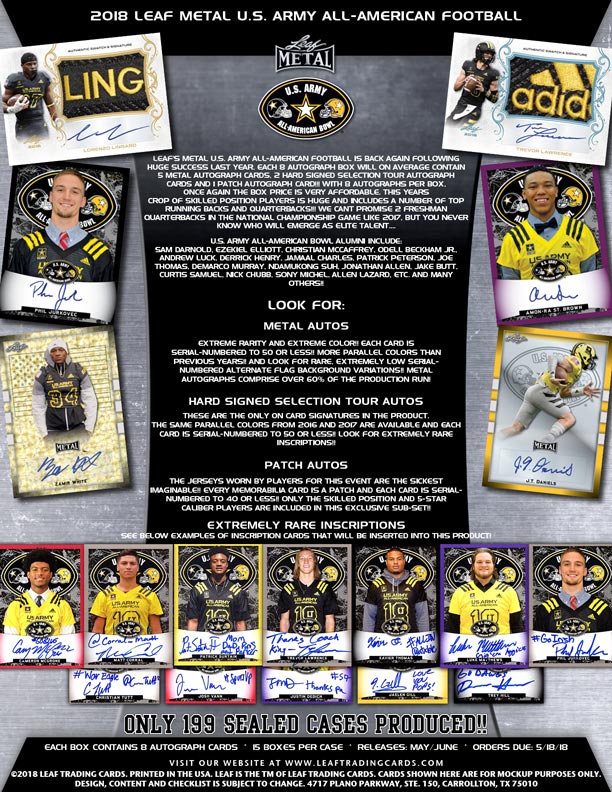 ONLY 199 SEALED CASES PRODUCED!!