Leaf is pleased to announce the return of one of the most exciting products in the baseball draft and prospect market each year, 2018 Leaf Metal Draft Baseball. This year's release features not only the hottest 2018 baseball draft picks but an excellent selection of the most exciting prospects and young stars in the game today! Plus new in 2018, Leaf is adding colored wave prismatic parallels to further add value to an already loaded release!!!
2018 Leaf Metal Draft Baseball
Key Components
Each box will contain 6 autographed cards.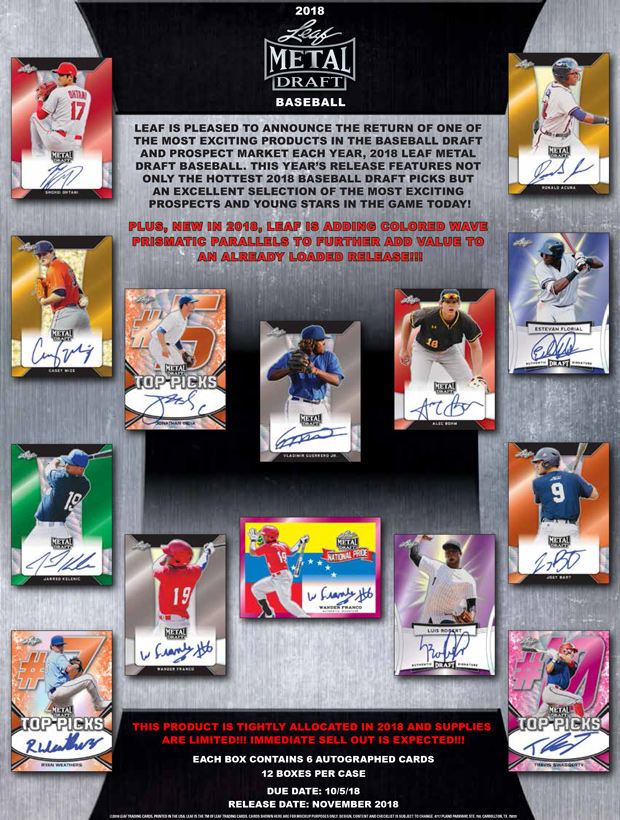 Card Variations:
Base Auto, National Pride, State Pride & Top Picks
Prismatic – no numbering
Blue Prismatic  – #'d to 35 and lower
Purple Prismatic – #'d to 25 and lower
Pink Prismatic – #'d to 20 and lower
Black Prismatic – #'d to 15 and lower
Green Prismatic – #'d to 10 and lower
Orange Prismatic – #'d to 7 and lower
Red Prismatic – #'d to 5 and lower
Gold Prismatic – #'d 1 of 1
Gold Super Prismatic – #'d 1 of 1
Base Auto, National Pride, State Pride & Top Picks (Wave Technology)
Wave Foil – no numbering
Blue Wave Foil – #'d to 20 and lower
Purple Wave Foil – #'d to 15 and lower
Pink Wave Foil – #'d to 10 and lower
Black Wave Foil – #'d to 7 and lower
Green Wave Foil – #'d to 5 and lower
Orange Wave Foil – #'d to 3 and lower
Red Wave Foil – #'d to 2 and lower
Gold Wave  Foil – #'d 1 of 1