Leaf is pleased to announce the NEW AND IMPROVED return of one of Leaf's flagship brands, 2018 Leaf Metal Pop Century. For the first time, the core set of 2018 Pop Century features Leaf's metal technology. Once again, the checklist celebrates everything that is truly amazing about pop culture. For this exciting 2018 release, look for the below exciting cards with all cards utilizing Leaf's metal technology with multiple parallel sets as limited as the 1/1 Super Prismatic.
Base Autographs – The base autograph set features an amazing checklist with the widest selection of signatures in pop culture history.
Accolades Autographs – This insert set features a checklist of award winners from among the Pop Century autograph checklist.
Heart Breaker Signatures – The insert set features the most stunning beauties among the Pop Century checklist.
Walk Of Fame Signatures – This insert set features a checklist of those honored with a star on the Hollywood Walk of Fame.
Sketch Autograph Cards – Hand created artwork cards featuring the signatures of some of the checklists most interesting names.
Vinyl Signs Signatures – This insert set features the hit makers who have impacted the music industry over the last century.
Dual, Triple & Quad Signatures – These incredible insert cards feature 2, 3 or 4 co-stars or otherwise related stars form this insanely strong checklist.
Cut Signature Cards – These limited edition Cut Signature cards feature a nice assortment of interesting pop culture personalities including Ivanka Trump, Gene Simmons, Joe Biden, Barbara Bush and more!
Pop Century Wardrobe Cards – This enhanced set now features celebrity worn clothing from some of entertainment's most exceptional names. For 2018, a vast majority of these cards feature multiple swatches with at least 2 or as many as 8 swatches per card.
2018 Leaf Metal Pop Century
Key Components

Each box contains 4 autographed or memorabilia cards.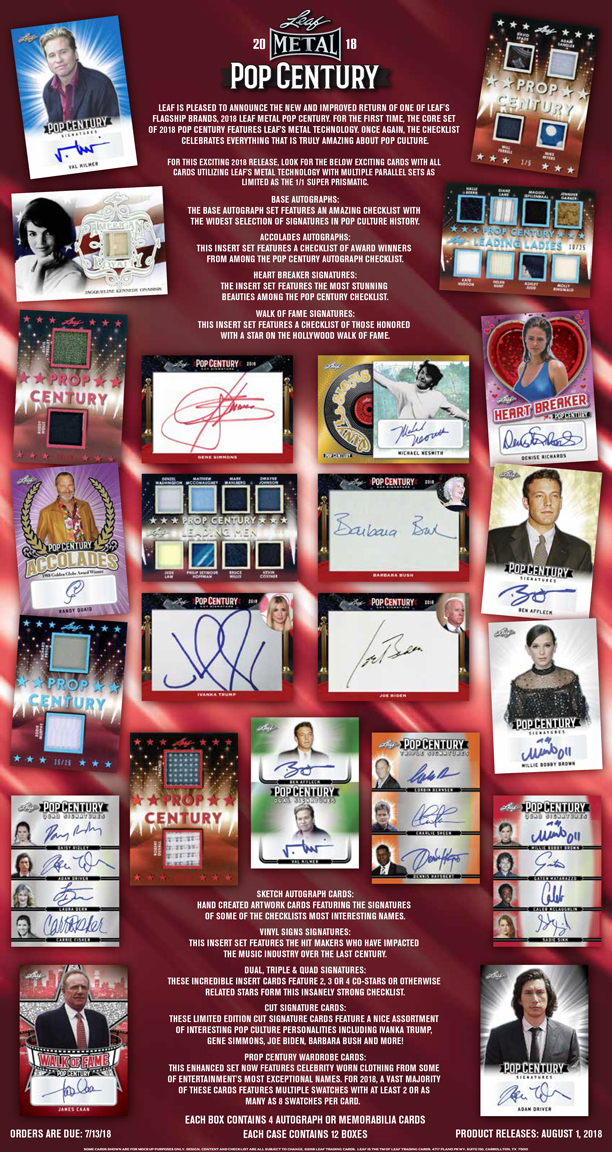 Card Variations:

Base Auto
Prismatic  – no numbering
Blue Prismatic – #'d to 50 and lower
Purple Prismatic – #'d to 35 and lower
Pink Prismatic – #'d to 25 and lower
Black Prismatic – #'d to 20 and lower
Green Prismatic – #'d to 10 and lower
Orange Prismatic – #'d to 5 and lower
Red Prismatic – #'d to 3 and lower
Gold Prismatic – #'d 1 of 1
Gold Super Prismatic – #'d 1 of 1
Heart Breaker Signatures, Vinyl Signs & Accolades
Prismatic  – no numbering
Blue Prismatic – #'d to 30 and lower
Purple Prismatic – #'d to 25 and lower
Pink Prismatic – #'d to 20 and lower
Black Prismatic – #'d to 15 and lower
Green Prismatic – #'d to 10 and lower
Orange Prismatic – #'d to 5 and lower
Red Prismatic – #'d to 3 and lower
Gold Prismatic – #'d 1 of 1
Gold Super Prismatic – #'d 1 of 1
Prop Century 4, 6 & 8
Prismatic  – no numbering
Blue Prismatic – #'d to 25 and lower
Purple Prismatic – #'d to 10 and lower
Pink Prismatic – #'d to 5 and lower
Black Prismatic – #'d 1 of 1
Prop Century Duos
Prismatic  – no numbering
Blue Prismatic – #'d to 25 and lower
Purple Prismatic – #'d to 15 and lower
Pink Prismatic – #'d to 5 and lower
Black Prismatic – #'d 1 of 1
Dual Auto
Prismatic  – no numbering
Blue Prismatic – #'d to 25 and lower
Purple Prismatic – #'d to 20 and lower
Pink Prismatic – #'d to 15 and lower
Black Prismatic – #'d to 10 and lower
Green Prismatic – #'d to 7 and lower
Orange Prismatic – #'d to 5 and lower
Red Prismatic – #'d to 3 and lower
Gold Prismatic – #'d 1 of 1
Gold Super Prismatic – #'d 1 of 1
Quad Auto
Prismatic  – no numbering
Blue Prismatic – #'d to 20 and lower
Purple Prismatic – #'d to 15 and lower
Pink Prismatic – #'d to 10 and lower
Black Prismatic – #'d to 7 and lower
Green Prismatic – #'d to 5 and lower
Orange Prismatic – #'d to 3 and lower
Red Prismatic – #'d to 2 and lower
Gold Prismatic – #'d 1 of 1
Gold Super Prismatic – #'d 1 of 1
Triple Auto
Prismatic  – no numbering
Blue Prismatic – #'d 1 of 1
Purple Prismatic – #'d 1 of 1
Pink Prismatic – #'d 1 of 1
Black Prismatic – #'d 1 of 1
Green Prismatic – #'d 1 of 1
Orange Prismatic – #'d 1 of 1
Red Prismatic – #'d 1 of 1
Gold Prismatic – #'d 1 of 1
Gold Super Prismatic – #'d 1 of 1
Walk Of Fame
Prismatic  – no numbering
Blue Prismatic – #'d to 50 and lower
Purple Prismatic – #'d to 25 and lower
Pink Prismatic – #'d to 20 and lower
Black Prismatic – #'d to 15 and lower
Green Prismatic – #'d to 10 and lower
Orange Prismatic – #'d to 5 and lower
Red Prismatic – #'d to 3 and lower
Gold Prismatic – #'d 1 of 1
Gold Super Prismatic – #'d 1 of 1
American Royalty
Prismatic  – no numbering
Blue Prismatic – #'d to 10 and lower
Purple Prismatic – #'d to 5 and lower
Pink Prismatic – #'d to 3 and lower
Black Prismatic – #'d 1 of 1