Leaf is pleased to announce the return of one of its more exciting multi-sport releases with not only a brand new configuration, but an incredibly strong checklist! This release celebrates a wide range of personalities from all facets of sport!
Every card is a colored prismatic parallel!!!! No base versions!!
Every single card in the product is numbered to 20 or less!!
For the first time in this product, wave parallels have been added to this release!!
Strongest checklist for this product ever!!
TWO CONFIGURATIONS FOR THIS RELEASE TO BETTER SERVE DIFFERENT CLASSES OF THE TRADE!!!!
LOOK FOR EXCITING NAMES IN THIS RELEASE, INCLUDING:
Steph Curry, Ichiro Suzuki, Ronaldinho, Ronaldo, Floyd Mayweather, Pele, Brett Favre, Wayne Rooney, Conor McGregor, Ken Griffey Jr., Lance Armstrong, Gordie Howe, Lionel Messi, Larry Bird, John Elway, Ronald Acuna, Christiano Ronaldo, Shaquille O'Neal, Chloe Kim, and many more!!

2018 Leaf Metal Sports Heroes Key Components
Hobby Version – Each box will contain 1 signed card .
Jumbo Version – Each box will contain 3 signed cards.
(each in a one touch with Leaf seal)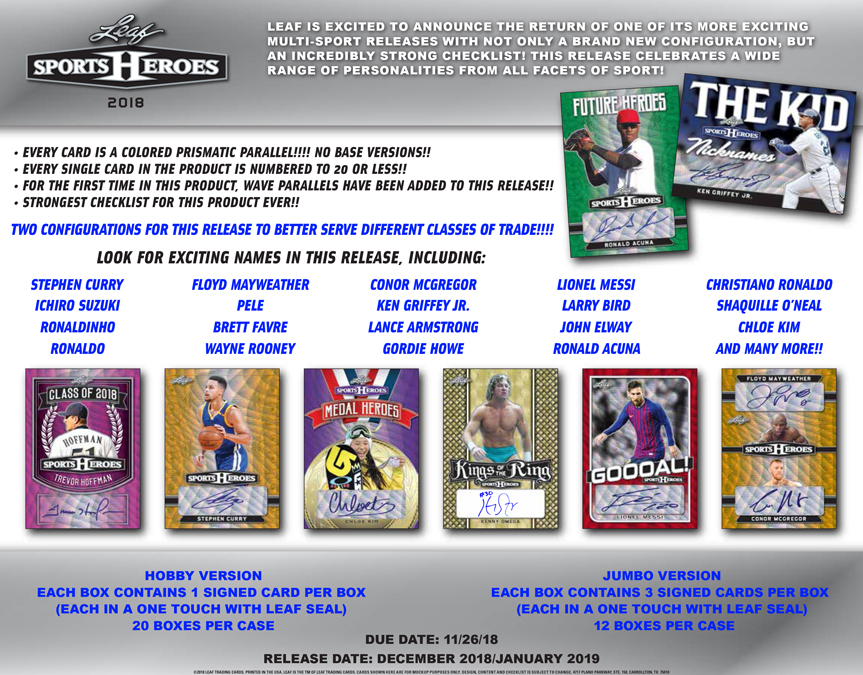 Card Variations:
Base Auto, Kings Of The Ring, Medal Heroes Auto, Class Of 2018, Future Legends Auto & Dual Auto
Blue Prismatic – #'d to 15 and lower
Purple Prismatic – #'d to 10 and lower
Pink Prismatic – #'d to 7 and lower
Green Prismatic – #'d to 5 and lower
Red Prismatic – #'d to 3 and lower
Gold Prismatic – #'d 1 of 1
Gold Super Prismatic – #'d 1 of 1

Nicknames Auto
Blue Prismatic – #'d to 15 and lower
Purple Prismatic – #'d to 10 and lower
Pink Prismatic – #'d to 10 and lower
Green Prismatic – #'d to 5 and lower
Red Prismatic – #'d to 3 and lower
Gold Prismatic – #'d 1 of 1
Gold Super Prismatic – #'d 1 of 1

Goal! Auto
Blue Prismatic – #'d to 8 and lower
Purple Prismatic – #'d to 7 and lower
Pink Prismatic – #'d to 5 and lower
Green Prismatic – #'d to 4 and lower
Red Prismatic – #'d to 3 and lower
Gold Prismatic – #'d 1 of 1
Gold Super Prismatic – #'d 1 of 1

Wave Parallels – Base Auto, Kings Of The Ring, Medal Heroes Auto, Class Of 2018, Future Legends Auto, Nicknames Auto & Dual Auto
Blue Foil – #'d to 10 and lower
Purple Foil – #'d to 7 and lower
Pink Foil – #'d to 5 and lower
Green Foil – #'d to 3 and lower
Red Foil – #'d to 2 and lower
Gold Foil – #'d 1 of 1
Gold Super Prismatic with Black Foil – #'d 1 of 1

Wave Parallel – Goal! Auto
Blue Foil – #'d to 7 and lower
Purple Foil – #'d to 5 and lower
Pink Foil – #'d to 4 and lower
Green Foil – #'d to 3 and lower
Red Foil – #'d to 2 and lower
Gold Foil – #'d 1 of 1
Gold Super Prismatic with Black Foil – #'d 1 of 1