Leaf is pleased to announce this powerful expansion to its "Immortals" line celebrating the greatest athletes in their sport. This exciting release is sure to amaze fans with the strongest selection of soccer superstars ever assembled on a single checklist. This ultra – limited release will feature a production of only 225 – 4 box cases. Look for autographed cards, plus dual, triple and quadruple autographed cards of the following legends of soccer: Ronaldinho, Ronaldo (Brazil), Cristiano Ronaldo, Lionel Messi, Gordon Banks, Geoff Hurst, Luis Suarez, Philippe Coutinho, Ousmane Dembele, Sergio Aguero, Wayne Rooney, Carli Lloyd, Pele and Steven Gerrard.
2018 Leaf Soccer Immortal Collection
Key Components

Each box contains 4 cards (3 base cards plus 1 auto card).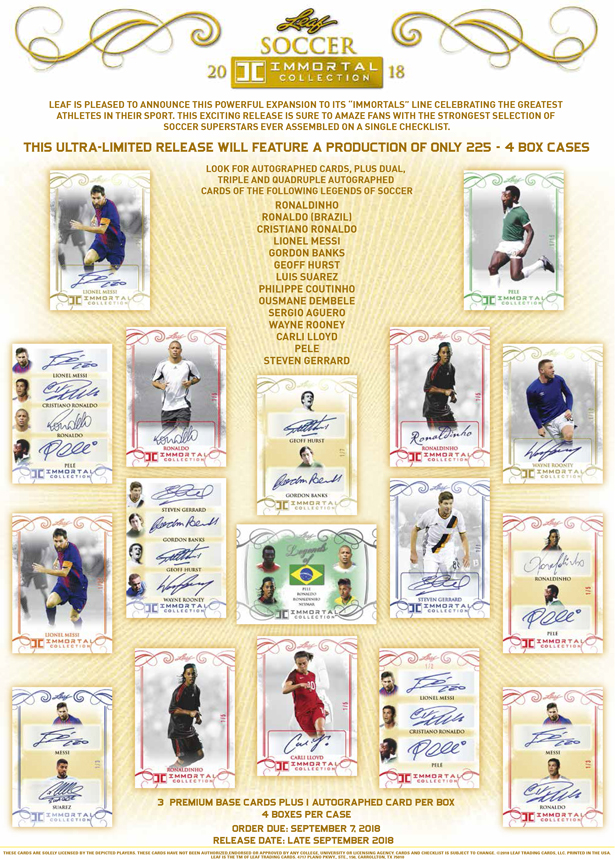 Card Variations:

Base Common, Legends Of Brazil, Of UK, Of Spain & Of USA
Blue Prismatic – #'d to 25 and lower
Green Prismatic – #'d to 15 and lower
Red Prismatic – #'d to 10 and lower
Purple Prismatic – #'d to 5 and lower
Gold Prismatic – #'d 1 of 1
Base Auto
Silver Prismatic – #'d to 20 and lower
Blue Prismatic – #'d to 10 and lower
Green Prismatic – #'d to 7 and lower
Red Prismatic – #'d to 5 and lower
Purple Prismatic – #'d to 3 and lower
Gold Prismatic – #'d 1 of 1
Dual & Triple Auto
Silver Prismatic – #'d to 10 and lower
Blue Prismatic – #'d to 7 and lower
Green Prismatic – #'d to 5 and lower
Red Prismatic – #'d to 3 and lower
Purple Prismatic – #'d to 2
Gold Prismatic – #'d 1 of 1
Quad Auto
Silver Prismatic – #'d 1 of 1
Blue Prismatic – #'d 1 of 1
Green Prismatic – #'d 1 of 1
Red Prismatic – #'d 1 of 1
Purple Prismatic – #'d 1 of 1
Gold Prismatic – #'d 1 of 1