Leaf is pleased to announce the return of one of its shortest print draft products from last year, 2018 Leaf Ultimate Football Hobby. Celebrating the classic Leaf designs of the early 1990's with an updated look, this release continues its use of these designs in the annual "design continuity" program. Leaf once again features an amazing player selection with a strong focus on offensive skill position players.
THIS RELEASE HAS 100% ON-CARD SIGNATURES ONCE AGAIN FOR 2018!!!
2018 Leaf Ultimate Draft Football
Key Components
Each box will contain 5 on-card autographed cards.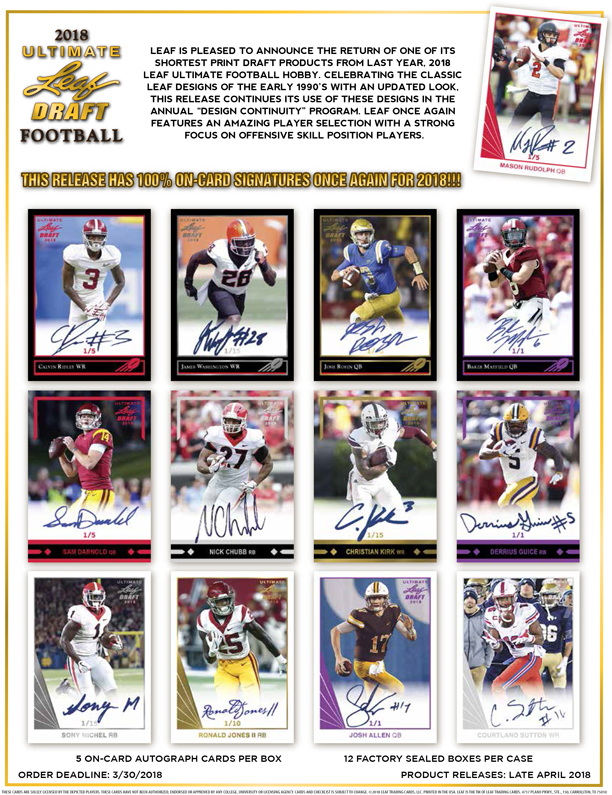 Card Variations:
1990 Leaf Auto, 1991 Leaf Rookie Auto, 1992 Leaf Black Gold Auto
Silver – not numbered
Gold – #'d to 25 and lower
Silver Prismatic – #'d to 15 and lower
Gold Prismatic – #'d to 10 and lower
Red – #'d to 5 and lower
Purple – #'d 1 of 1

Flashback 91 Leaf Rookie Auto
Silver – not numbered
Gold – #'d to 20 and lower
Silver Prismatic – #'d to 15 and lower
Gold Prismatic – #'d to 10 and lower
Red – #'d to 5 and lower
Purple – #'d 1 of 1
Flashback Base 1990 Leaf Auto
Silver – not numbered
Gold – #'d to 50 and lower
Silver Prismatic – #'d to 25 and lower
Gold Prismatic – #'d to 10 and lower
Red – #'d to 5 and lower
Purple – #'d 1 of 1