Leaf is pleased to announce the return of one of it's most exciting baseball releases, 2018 Leaf Valiant Baseball! This release not only features an amazing assortment of the hottest prospects in the game and the hottest new MLB Draft picks, but features an ultra high grade BGS 9.5, BGS 10 or BGS BLACK LABEL rookie in each box!
2018 Leaf Valiant Baseball
Key Components
Each box will contain 4 Valiant Autographed Rookie Cards plus 1 Valiant Autographed Rookie Card graded BGS 9.5, 10 or black label BGS 10.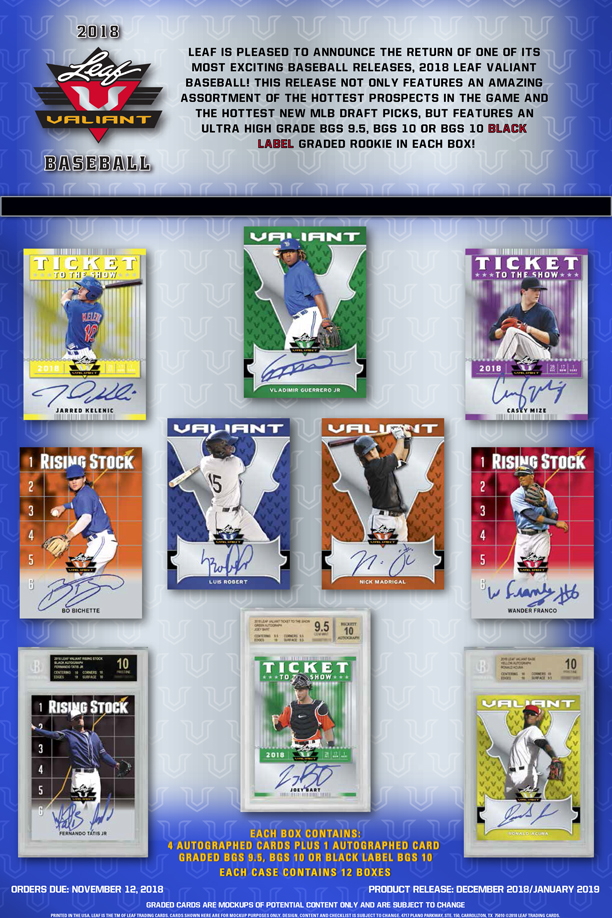 Card Variations:
Base Auto, Rising Stock & Ticket To The Show
Green Prismatic – #'d to 99 and lower
Orange Prismatic – #'d to 35 and lower
Blue Prismatic – #'d to 25 and lower
Purple Prismatic – #'d to 15 and lower
Yellow Prismatic – #'d to 10 and lower
Black Prismatic – #'d to 5 and lower
Red Prismatic – #'d 1 of 1