Leaf is pleased to announce the return of last year's smash hit release, 2018 Leaf Valiant Draft Football Hobby. Once again, this release returns with not only the most powerful mix of your players with a heavy focus on offensive skill guys, it returns with the stunning Valiant technology of amazingly colorful, clean cards! Once again, Leaf will bring collectors one graded card per box with all grades being either BGS 9.5, BGS 1o or Black Label BGS 10!
2018 Leaf Valiant Football
Key Components
Each box will contain 3 on-card autographed cards plus 1 graded on-card autograph card. (BGS 9.5, BGS 10 or Black Label BGS 10)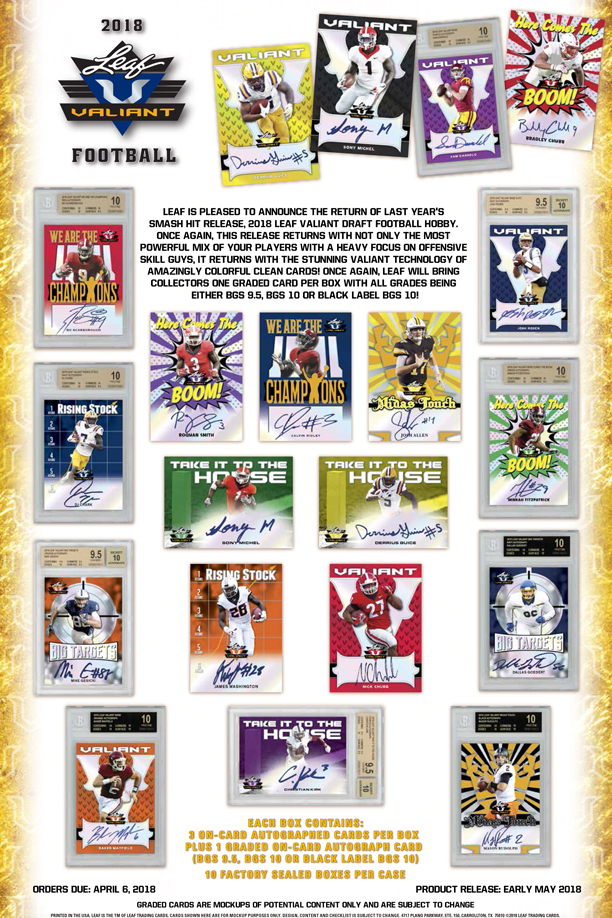 Graded cards are mockups of potential content only and are subject to change.

Card Variations:
Base Auto, Midus Touch, Rising Stock, We Are The Champions, Big Targets, Here Comes The Boom & Take It To The House
Green Prismatic – #'d to 60 and lower
Orange Prismatic – #'d to 35 and lower
Navy Blue Prismatic – #'d to 25 and lower
Purple Prismatic – #'d to 15 and lower
Yellow Prismatic – #'d to 10 and lower
Black Prismatic – #'d to 5 and lower
Red Prismatic – #'d 1 of 1