Leaf is please to announce the return of last years smash hit, repacked product, 2019 Leaf Best Of Sports. Once again, this release celebrates everything fantastic about sports cards. This release features autographed cards, memorabilia cards, vintage cards, rookie cards and even a few surprises including signed memorabilia redemptions!
2019 Leaf Best Of Sports
Key Components
Each box contains 1 buyback card plus 1 Leaf Best Of Sports Original card.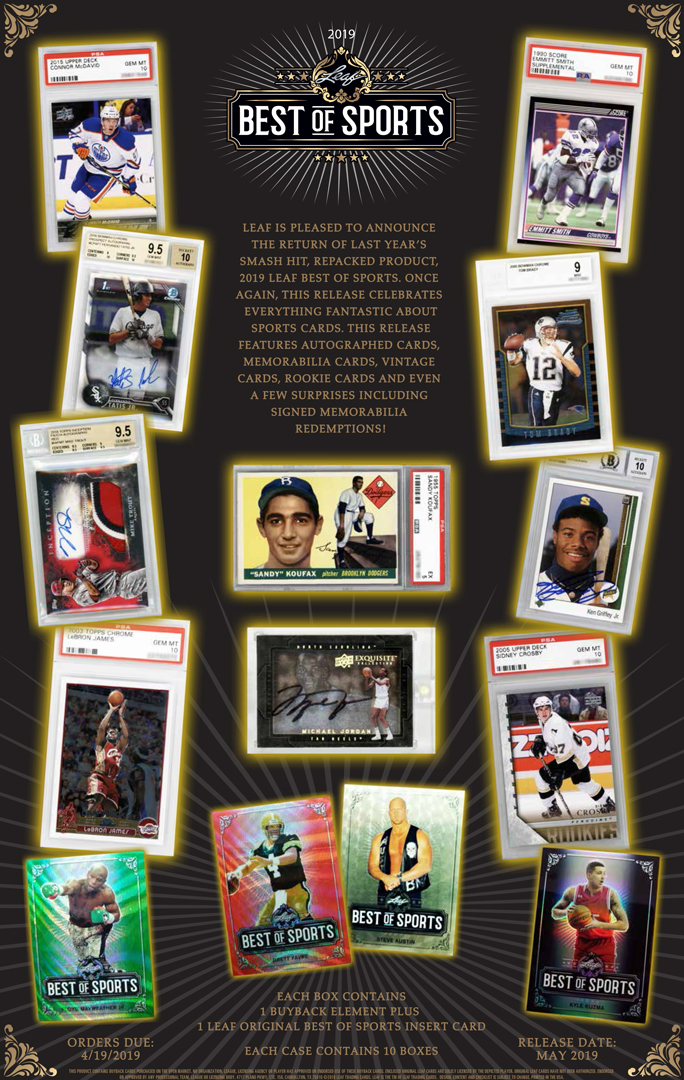 Card Variations
Rookie Impact
Silver Prismatic – no numbering
Blue Prismatic – #'d to 10 and lower
Purple Prismatic – #'d to 7 and lower
Pink Prismatic – #'d to 5 and lower
Black Prismatic – #'d to 3 and lower
Green Prismatic – #'d to 2 and lower
Orange Prismatic – #'d 1 of 1

Rookie Impact – Wave
Silver Prismatic – no numbering
Blue Prismatic – #'d to 7 and lower
Purple Prismatic – #'d to 5 and lower
Pink Prismatic – #'d to 3 and lower
Black Prismatic – #'d to 2 and lower
Green Prismatic – #'d 1 of 1
Orange Prismatic – #'d 1 of 1

Base – Common
Silver Prismatic – no numbering
Blue Prismatic – #'d to 35 and lower
Purple Prismatic – #'d to 25 and lower
Pink Prismatic – #'d to 20 and lower
Black Prismatic – #'d to 15 and lower
Green Prismatic – #'d to 10 and lower
Orange Prismatic – #'d to 7 and lower
Red Prismatic – #'d to 5 and lower
Gold Prismatic – #'d 1 of 1
Gold Super Prismatic – #'d 1 of 1

Base – Common – Wave
Silver Prismatic – no numbering
Blue Prismatic – #'d to 20 and lower
Purple Prismatic – #'d to 15 and lower
Pink Prismatic – #'d to 10 and lower
Black Prismatic – #'d to 7 and lower
Green Prismatic – #'d to 5 and lower
Orange Prismatic – #'d to 3 and lower
Red Prismatic – #'d to 2 and lower
Gold Prismatic – #'d 1 of 1
Gold Super Prismatic – #'d 1 of 1