Leaf is pleased to announce the return of the hobby's most popular football draft release, 2019 Leaf Metal Draft Football!! This release again features the best selection of young players in the 2019 Draft. (with a very heavy emphasis on skill position players and the most elite defensive future stars)
Once again in 2019, Leaf Metal Draft Football has as much color as ever, as a majority of cards in this release are low numbered colored Prismatic or Prismatic – Wave inserts!!!!
NEW FOR 2019!!! HOBBY AND JUMBO CONFIGURATIONS!!!
2019 Leaf Metal Draft Football
Key Components
Each box will contain:
Hobby – 5 autographs per box.
Jumbo – 9 on-card autographs plus 1 autographed 1/1 slabbed Clear proof card.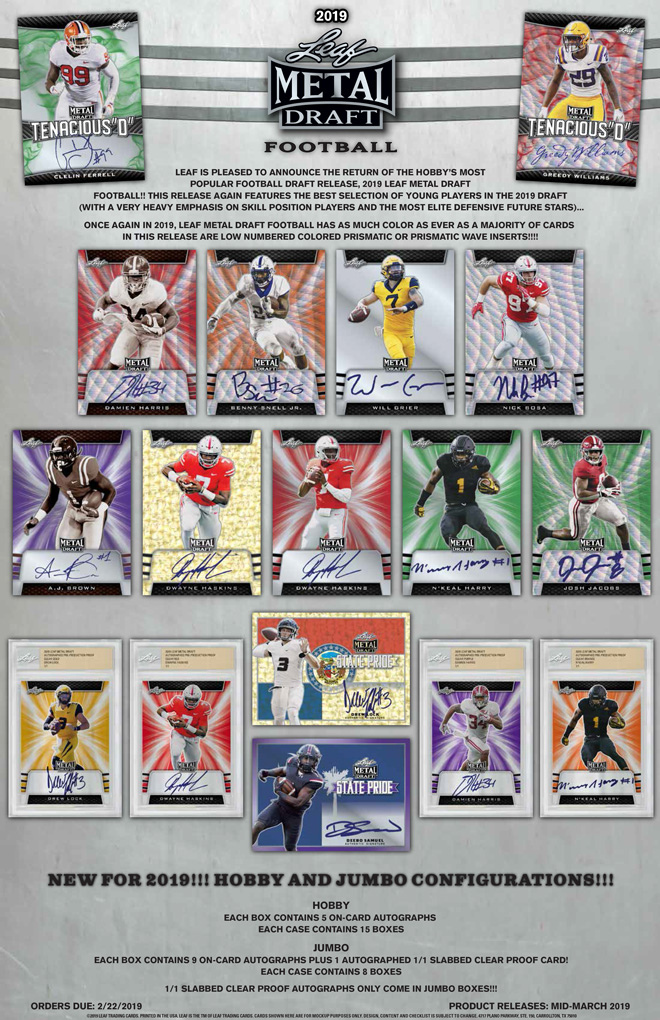 Card Variations:
Base Auto, Base Photo Variation, Base Sepia Variation, State Pride & Tenacious D
Wave Foil – no numbering
Blue Wave Foil – #'d to 35 and lower
Purple Wave Foil – #'d to 25 and lower
Pink Wave Foil – #'d to 20 and lower
Black Wave Foil – #'d to 15 and lower
Green Wave Foil – #'d to 10 and lower
Orange Wave Foil – #'d to 7 and lower
Red Wave Foil – #'d to 5 and lower
Gold Wave Foil – #'d 1 of 1
Gold Foil Super Prismatic – #'d 1 of 1

Base Auto, Base Photo Variation (Wave Technology)
Wave Foil – no numbering
Blue Wave Foil – #'d to 20 and lower
Purple Wave Foil – #'d to 15 and lower
Pink Wave Foil – #'d to 10 and lower
Black Wave Foil – #'d to 7 and lower
Green Wave Foil – #'d to 5 and lower
Orange Wave Foil – #'d to 3 and lower
Red Wave Foil – #'d to 2 and lower
Gold Wave Foil – #'d 1 of 1

Base Sepia Variation, State Pride & Tenacious D (Wave Technology)
Wave Foil – no numbering
Blue Wave Foil – #'d to 20 and lower
Purple Wave Foil – #'d to 15 and lower
Pink Wave Foil – #'d to 10 and lower
Black Wave Foil – #'d to 7 and lower
Green Wave Foil – #'d to 5 and lower
Orange Wave Foil – #'d to 3 and lower
Red Wave Foil – #'d to 2 and lower
Gold Wave Foil – #'d 1 of 1
Gold Foil Super Prismatic – #'d 1 of 1