Leaf is pleased to announce the return of the hobby's flagship celebrity focused product, 2019 Leaf Metal Pop Century trading cards. Once again, this release features one of the strongest checklists in the history of the product. The combination of signed cards, multi-signed cards, Cut Signatures and memorabilia cards is unmatched.
2019 Leaf Metal Pop Century
Key Components
Four premium hits per box.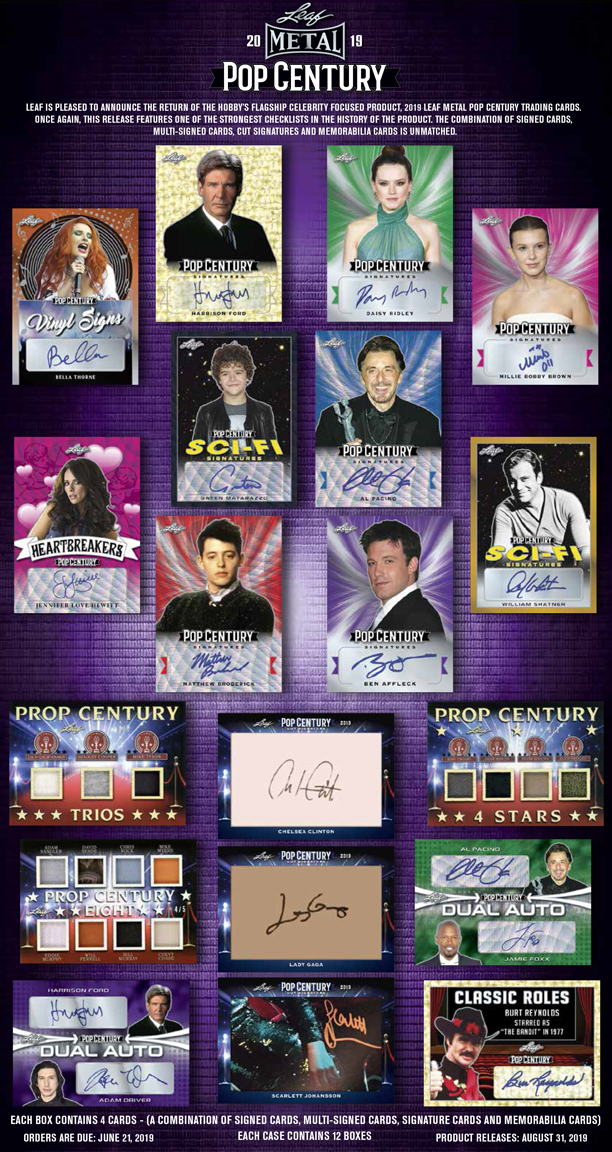 Card Variations:

Base Auto, Heartbreakers, Stunning Starlets, Sci-Fi Signatures, Classic Roles, Dual Auto, Stars Of The Sandlot & Vinyl Signs
Prismatic
Blue Prismatic
Purple Prismatic
Pink Prismatic
Black Prismatic
Green Prismatic
Orange Prismatic
Red Prismatic
Gold Prismatic
Gold Super Prismatic
Prismatic Wave
Blue Prismatic Wave
Purple Prismatic Wave
Pink Prismatic Wave
Black Prismatic Wave
Green Prismatic Wave
Orange Prismatic Wave
Red Prismatic Wave
Gold Prismatic Wave

Prop Century Co-Stars, Prop Century 4 Stars, Prop Century 8, Prop Century Decade of Stars & Prop Century Trios
Bronze Holofoil
Platinum Holofoil
Red Holofoil
Silver Holofoil
Gold Holofoil