Leaf is pleased to announce the return of one of its most popular buyback items, 2019 LEAF ROOKIE RETRO. Once again, this release features the most amazing selection of graded rookie cards ever accumulated into a single release. Each and every buyback in this release is graded or authenticated!
2019 Leaf Rookie Retro
Key Components
Each box contains 1 graded Buyback Rookie card plus 1 Leaf Original Rookie Retro card.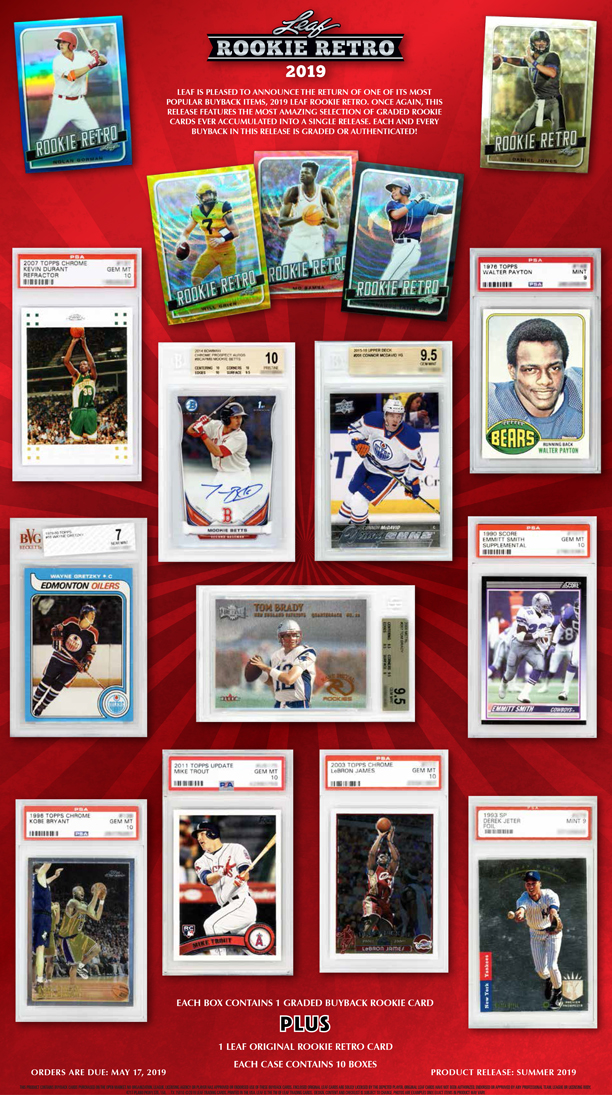 Card Variations:

Rookie Retro – Base Common
Prismatic – no numbering
Blue Prismatic – #'d to 35 and lower
Purple Prismatic – #'d to 25 and lower
Pink Prismatic – #'d to 20 and lower
Black Prismatic – #'d to 15 and lower
Green Prismatic – #'d to 10 and lower
Orange Prismatic – #'d to 7 and lower
Red Prismatic – #'d to 5 and lower
Gold Prismatic – #'d 1 of 1
Gold Foil Super Prismatic – #'d 1 of 1


Rookie Retro – Base Common (Wave Technology)
Wave Foil – no numbering
Blue Wave Foil – #'d to 20 and lower
Purple Wave Foil – #'d to 15 and lower
Pink Wave Foil – #'d to 10 and lower
Black Wave Foil – #'d to 7 and lower
Green Wave Foil – #'d to 5 and lower
Orange Wave Foil – #'d to 3 and lower
Red Wave Foil – #'d to 2 and lower
Gold Wave Foil – #'d 1 of 1