Leaf Trading Cards is pleased to announce the return of the hobby's most anticipated high-end Hockey release with 2020-21 Leaf Pearl Hockey!
Look for:
Pearls of History 4: A 4 player memorabilia set featuring fight strap buttons from some of Hockey's top legends and superstars such as: Brett Hull/Joe Sakic/Eric Lindros/Steve Yzerman and Mario Lemieux/Mike Modano/Pierre Turgeon/Mark Messier
Pearls of History: A history making single player memorabilia card featuring pad buckles or fight strap buckles from some of the greats in Hockey Lore!! Such as Georges Vezina, Tiny Thompson, Jacques Plante and Martin Brodeur!
Letter or Lace: The laces off the front of the jersey or the name off the back? This amazing memorabilia card features one or the other!! Some amazing Letters off the back of stars like Joe Sakic, Mats Sundin and Martin Brodeur or Neck Ties off legends such as Jean Beliveau, Doug Harvey and Teemu Selanne!
Magnum Opus: A Dual NHL Shield masterpiece of memorabilia featuring historical pairings such as Mario Lemieux/Jaromir Jagr, Sergei Fedorov/Pavel Bure and Paul Kariya/Teemu Selanne!
The Shield: Shield your eyes from the magnitude of these single player NHL Shields! Featuring Hockey heroes such as Ed Belfour, Henrik Lundqvist, Marian Hossa and Curtis Joseph!
Pearlescent Patch: A single player jumbo patch card featuring Hockey Legends such as: Gordie Howe,Pelle Lindbergh and Dominik Hasek
Locker Room Collection: Single player 6 piece memorabilia card featuring Jersey, Patch, Pad, Skate, Glove and almost any type of Hockey Gear! Stars such as Terry sawchuk, Stan Mikita and Bobby Hull will be featured!
Paragon Signatures: A single plyer auto memorabilia set featuring Ice immortals such as Gordie Howe, Mario Lemieux and Bobby Hull!
Paragon Signatures 2: A dual player dual memorabilia auto set! Featuring amazing and even surprising combos such as Gordie Howe/Barry Sanders, Luc Robitaille/Magic Johnson and Joe Sakic/John Elway!
Paragon Signatures 3: A Triple signed Memorabilia card set featuring Hockey stars such as: Phil Esposito/Larry Bird/Carlton Fisk and Mario Lemieux/Cam Neely/Brett Hull
Paragon Signatures 6: A six player six memorabilia front and back masterpiece featuring a six pack of stars such as: Selanne/Lindros/Kurri/Robitaille/Neely/Roenick and Fuhr/Hextall/Richter/Esposito/Potvin/Joseph!
Pearl Signatures 3: A triple signed card featuring legends such as Bobby Hull/Guy Lafleur/Marcel Dionne and Gordie Howe/Mario Lemieux/Frank Mahovlich!
Pearl Signatures 4: A 4 player signature card featuring Hockey heroes such as Sakic/Selanne/Bure/Hull and Hasek/Richter/Potvin/Joseph
Pearl Signatures 6: Front and Back six signed signature Superstars such as: Esposito/Roenick/Robitaille/Trottier/Hull/Lafleur.
Pearl Signatures 8: front and back 8 signed card featuring a great 8 such as: Lemieux/Howe/Hull/Trottier/Dionne/Lafleur/Esposito/Bossy and Howe/Pele/Lemieux/Griffey Jr./Hull/Bird/Hull/Montana
Signature Sixteen: Yes, you heard that right! Sixteen Signatures! A 4 panel booklet card featuring 16 of the greatest hockey legends of all time such as: Hull/Lemieux/Lindros/Trottier/Mahovlich/Howe/Sakic/Jagr/Bossy/Bure/Fedorov/Yzerman/Dionne/Selanne/Esposito/Lafleur and Fuhr/Cheevers/T.Esposito/Joseph/Parent/Hasek/Giacomin/Potvin/Hall/Brodeur/Richter/Kolzig/Hextall/Vachon/Barrasso/Tretiak
Old Time Hockey: A 6-player memorabilia card featuring Vintage legends and vintage memorabilia such as Vezina/Gardiner/LeSueur/Hainsworth/Benedict/Worters
Signature Decade: A 4 player signed card featuring stars across all sports that defined a decade! Such as: 1960s Gordie Howe/Pele/Jerry West/Dick Butkus and 1990s Brett Hull/Sammy Sosa/Emmitt Smith/Shaquille O'Neal
Year of the Champion: A 4 player signed card featuring champions from across all sports in during a glorious season! Such as: 1980 Mike Bossy/Magic Johnson/Terry Bradshaw/Pete Rose and 2002 Brett Hull/Manny Pacquiao/Shaquille O'Neal/Hulk Hogan
Goals Against: A dual signed card featuring 2 goalies that had an epic showdown in the Stanley Cup Playoffs such as: Fuhr/Hextall 1987 Cup Finals and Cheevers/Hall 1970 Cup Finals
Base Card: A dual player base card featuring 2 genuine pearls! Such as Vezina/Taylor, Lemieux/Jagr and Shore/Clapper!
2020-21 Leaf Pearl Hockey
Key Components
2 boxes per case, 11 cards per box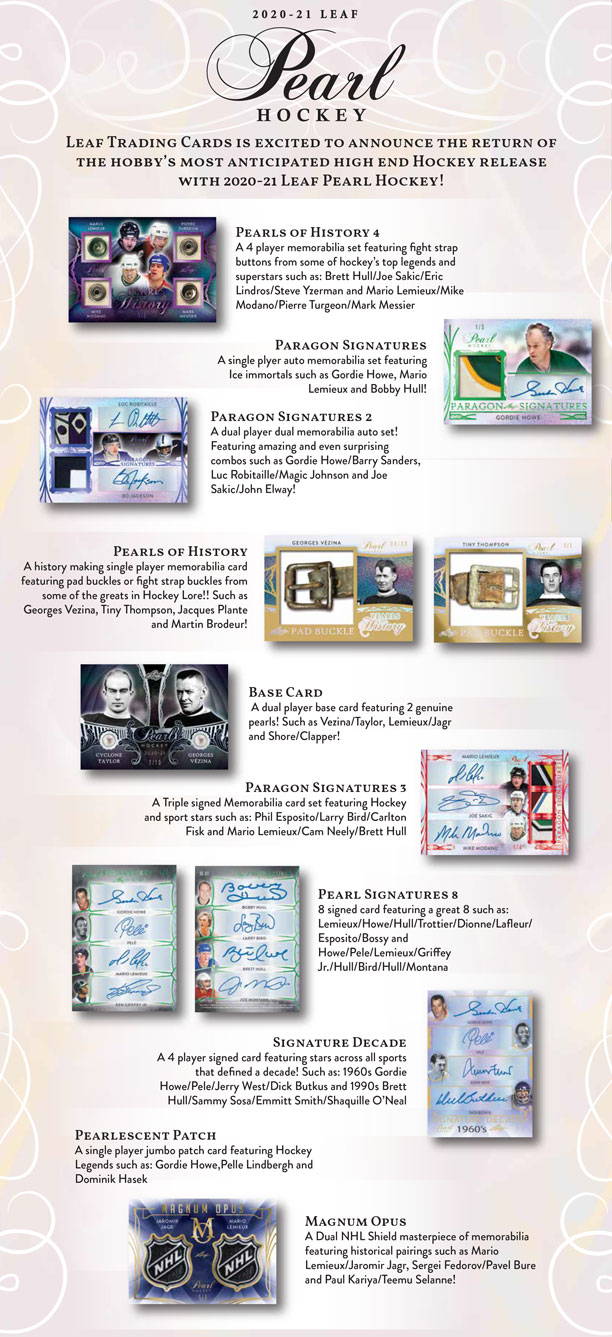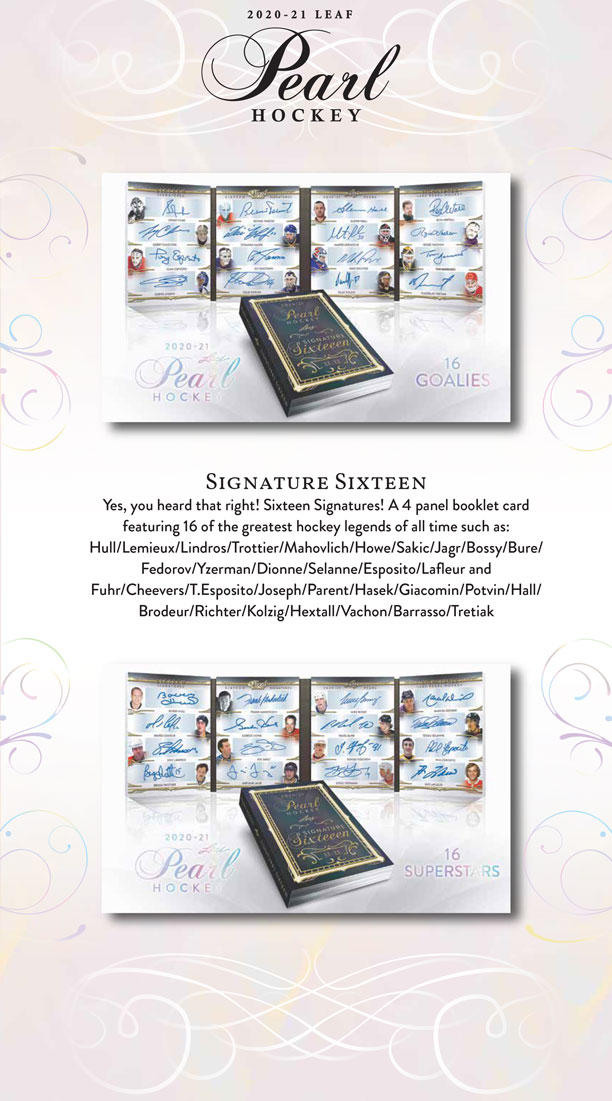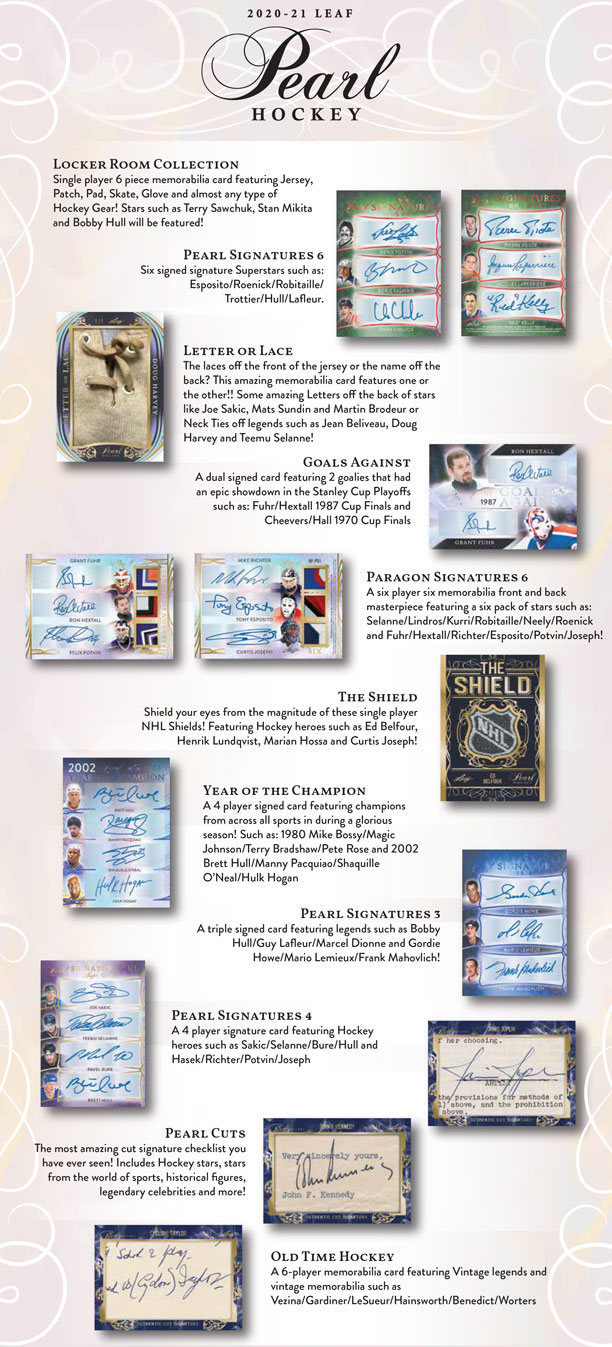 Card Variations: (See Checklist for further details)
Silver
Red
Platinum
Purple
Navy Blue
Gold
Green
Black